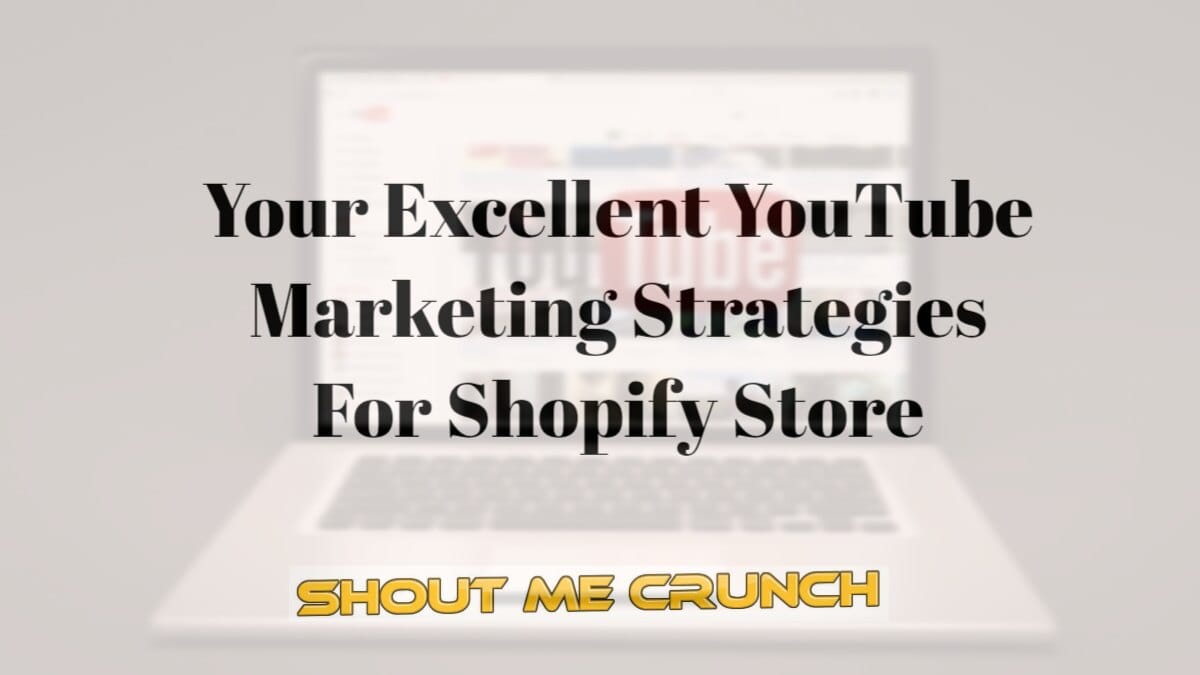 YouTube is a hugely successful platform founded in 2005. It is a video-sharing website with low-resolution clips, and YouTube is considered the second largest search engine after Google. According to the survey, YouTube can be accessed anywhere, and the reason is YouTube watch time comes from mobile devices!
Approximately 1 billion hours of videos watched per day. So, YouTube is a perfect medium for improving brand awareness and getting traffic for your Shopify store.
Also, YouTube is a beautiful platform for eCommerce marketing; nowadays, it is developing day by day!
This guide will see the seven excellent tips that help to improve YouTube marketing for Shopify stores and drive more sales.
1. Build Your Brand Using YouTube:
Having a Shopify store first, you need to work with brand enhancement. Your YouTube channel should look like an extension of your Shopify store and brand. Loyal customers should recognize your color palette and logo compared to other essential branding elements!
If you want to promote your brand, you need to create a beautiful Shopify theme with an excellent layout for your eCommerce store. Ensure that you need to analyze YouTube's customization features and improve your brands' logos, design elements, and images that match your Shopify store's look.
Design attractive themes will help to grab the audience at your Shopify store. With this, your Shopify store is easily recognizable when the viewers see the theme.
Read also: The Success of Archetypes in Brand Marketing
2. Keep Consistency In Your Content Posting:
Frequently posting a video helps identify your content and be more recognizable by the audience. In case you don't post the video content regularly, your audience may forget about you and your content style.
If you upload the content too much at once, they feel unsubscribed and overwhelmed. If you are struggling to create content, a worthwhile consideration is making some memorable templates to help you post more number of posts without starting from scratch every time.
Make sure that you will check the videos when you're posting at the best time. Because at this time, more audiences spend their time on social media. For example, the best time to post your content on weekdays in the afternoon and weekdays post-time between 9 to 11 AM is optimal.
Read Also: Skyrocket SEO for Your Shopify Web Shop [How To]
3. Optimize Your Engaging Content:
Are you struggling to sell products via Shopify? Here are the simple steps:
Optimize Video Title:
YouTube is an optical medium; So, your visible screen must attract your viewers! A title helps to explain your story of the content. Using the exact keywords in the header will help to improve your ranking!
Optimize Video Thumbnail:
Using thumbnails is easily recognizable about your content when the viewers first see it! So, keep in mind that create eye-catching thumbnails consistent with your brand while stimulating the searcher to click the video.
Use Video Tags:
You want to improve your ranking on YouTube, and you will use tags(related keywords). Ensure that the keyword must be relevant to your content and use the best tags, which means a target keyword.
4. Engage Your Viewers:
Uploading your video is not only a job, and your content must engage your audience. If the viewers enjoyed your content, they would give the feedback in your comment section. So you need to be focused on, get a few ideas from the viewer's points.
The best way to engage your viewers is to communicate with them. If they drop a comment for your videos, you must be replying to them or give the heart symbol to boost your viewers. Your positive response encourages them and enhances your traffic when you have to use CTA actions.
Take positive feedback and neglect the negative feedback. Hereby, you can improve your subscriber's growth to your channel. You are increasing subscribers to your channel and helping to enhance your Shopify eCommerce website.
5. Collaborate with Other influencers:
You want to improve yourself, then you will choose to work with other influencers. The main advantage of working with influencers is to share the knowledge from both. For instance, if you're working with top influencers, they will share the video on their channel. Their followers can see your video and there are more chances to subscribe to your channel.
Using the influencers technique helps you enhance your YouTube video promotion and get a high number of views for your videos. Working with others will create brand authority in front of the audience.
Focusing your target audience through your product or service's collaboration goes a long way in making traction for your brand and establishing a Shopify store. Basically, the influencers have a massive number of subscribers in their accounts.
If you want to work with budgeting for collaboration, you need to be negotiated and well thought. It is because of your brand's association and recognition, and the viewers usually take more than 6 months of brand mentions on social networks and their channels.
6. Write Interesting Descriptions:
Generally, the description section helps to explain your brand enormously. In this sense, you can add 2- 4 keywords in this section, improving your ranking and brand awareness. Don't forget to add the CTA options on your YouTube part. If any users want to know about your brand and details, they can use the CTA options. The CTA link is connected with your Shopify store.
The total length of the video description is 1000 characters. But the few lines only appear on the search engine results. So, don't write a long story about your brand. Write crispy and short helps to grab the audience quickly.
7. Maximize Engagement Via Storytelling:
If you want to achieve your aim, you should choose the best content. Now that you have to upload a schedule, what type of content do you want to post? There are basically two types of videos demanded on YouTube. There are how-to and FAQ Videos.
How-to video helps your viewers learn more products about your niche and get the most out of them. This helps build trust in your brand that can lead to increased sales.
FAQ videos are the type that dives deep into topics and misconceptions surrounding your product range that many people don't quite understand. Making FAQ content videos helps your viewers get more comfortable with your products and help your support team as consumers have free, on-demand support via your videos.
Conclusion:
Make sure your videos must be clear, product-relevant, compelling calls-to-action to drive more audience to your Shopify store. Remember to heavily promote your channel, which helps to reach more audiences and increase your brand awareness!
YouTube is the best marketing medium to share your video link on other social networks, Emails, newsletters, and blogs.
You can get excellent eCommerce marketing results from YouTube if you frequently make great content and consistently get it in front of the right audience.