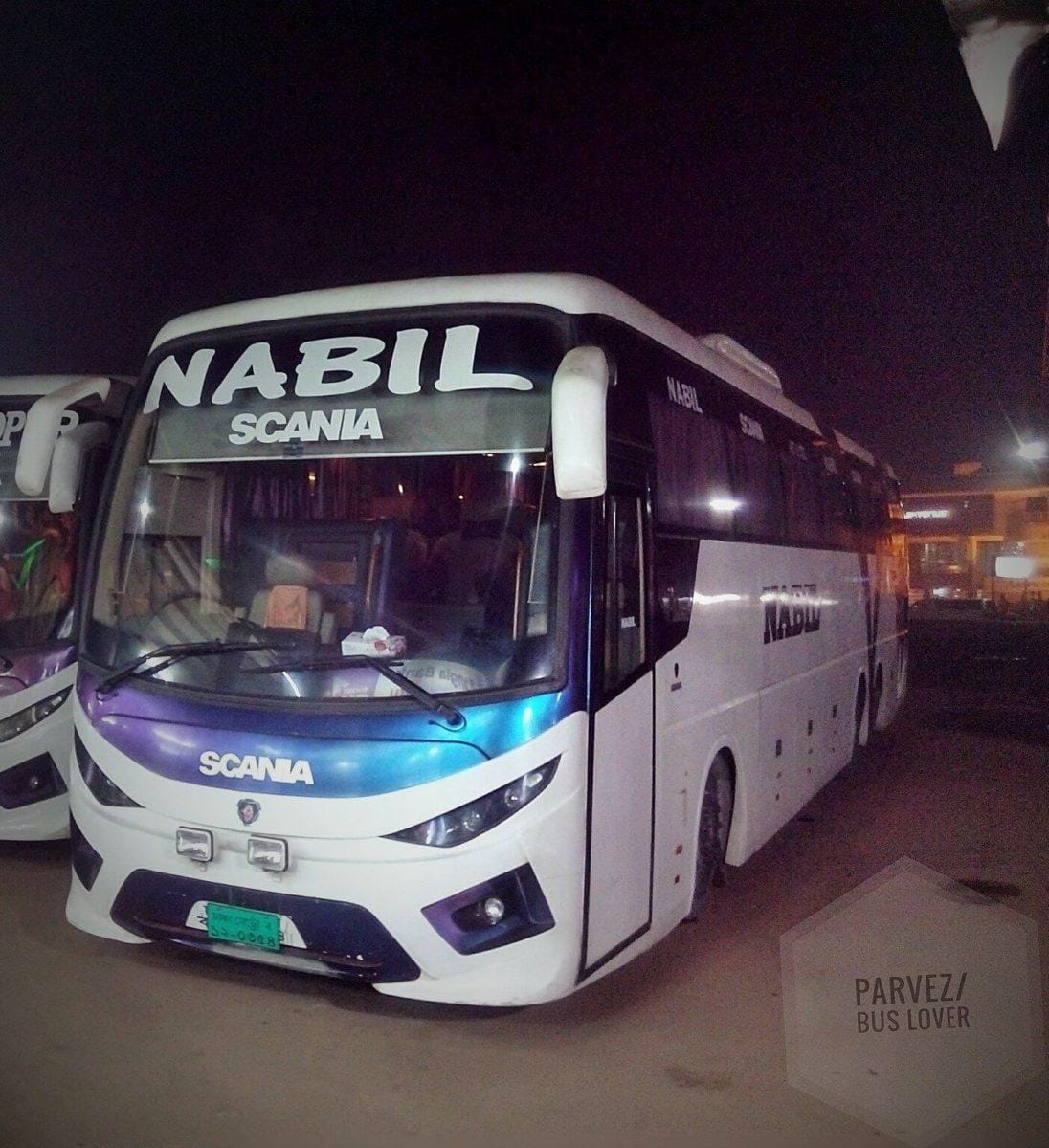 Nabil Paribahan Bus All Counter update phone number is available here. Asad Gate, Majar Road, Dhaka, and Rangpur Counter numbers are available.
Nabil Paribahan is one of the famous bus services for a northern visit to Bangladesh. I recently visited the Kishoreganj Upazilla health complex in the Nilphamari district. I have gone and come back by Nabil Poribohon. So I know far better than any other how their service is.
I have traveled Dhaka – Rangpur by their Non-AC bus and returned from Taragonj by AC (Scania) bus service. Nabil Paribahan Scania is one of the best AC buses. Their AC bus (Business Class) service is available for the below routes.
Dhaka-Bagura-Dhaka
Dhaka-Rangpur-Dhaka
Dhaka-Dinajpur-Dhaka
Dhaka-Thakurgaon-Dhaka
Dhaka-Panchgar-Dhaka
Dhaka-Nilphamari-Dhaka
Nabil Paribahan All Counter Phone Number
Nabil Paribahan all counter latest phone number (2-Jan-18) is given below.
You can call any above numbers and can purchase the ticket requesting Bkash.
Contact them:
01193426865 Nabil Asad Gate Counter
01731285235 Nabil Asad Gate (Bkash Number)
01193106611 Majar Road Nabil Counter
01193147751 – Majar Road Nabil Counter
01839968531 for Nilfamari, Domar, Debigonj
Check the video of Nabil Air-con through the Rangpur-Kurigram highway.
Nabil Paribahan has another luxurious bus named the Hino RN-8J AC bus. This bus route: Dhaka – Birampur – Fulbari – Dinajpur – Setabganj – Ranishoinkol – Dhaka
Their Official Facebook Page is:
https://www.facebook.com/nabilparibahan1/
https://www.facebook.com/nabilparibahanclassic/
Total Seats – 28 (1: 2 ) – Business Class
Some Pictures of Nabil Scania Bus and Nabil Classic Bus
Review of Nabil Classic Bus
Nabil classic bus is average bus service for medium ranged budget. Not as comfy on the road as the road is a little bit bumpy. The window seats are not well arranged that much. You can get trouble if your seat is behind the shared window. The seat is not too soft as expected. But within ticket fare range this bus is fare enough for travelling.
Review of Nabil Scania Bus
It is remarkable. It meets the demand of 100% of your expectation. Cool and clean environment. 3 Seats per rows with the comfy and huge seat for one person. Complimentary water bottle and beverages are served. I took the night journey from Taraganj to Dhaka. I slept well during bump. The driver is good and very careful during a night drive.