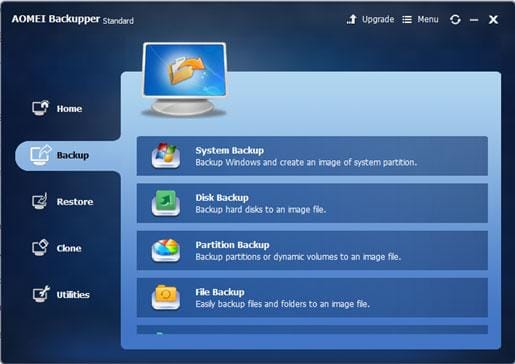 If your system crashes or disk fails, you must feel unfortunate and hopeless. The crash is the most common computer terminology users meet, refers to the method halted or the system can not be started because of some unpredictable reasons. Backup and recovery is the best solution for data loss. AOMEI Backupper is the best backup software that can help you backup your system, disks and files in advance, and once accidents happen, restore them all back immediately.
AOMEI Backupper provides an essential feature for system backups that can quickly backup systems and boot partitions to an image file. Meanwhile, it possesses the function of compression to the image file to reduce the storage space required by the image file to the largest extent.
Now AOMEI Backupper 4.1.0 has released!
Version 4.1:
1.Added feedback tool. To send your feedback to us, please click "Menu" in the top right corner of the main interface and choose "Feedback".
2.Support to edit the tasks that don't have any backup image file.
3.Improved the email notification message of failed tasks.
4.Improved the existing multi-languages, including French (Fran?ais), Italian (Italiano), Dutch (Nederlands) and Turkish (Türk?e).
5.Updated the email notification SSL.
When the standard version is upgraded, the registration step is optimized.
7.Fixed issue: Linux partitions display as empty.
8.Fixed issue: the program crashes when loading GPT disks in some systems.
9.Fixed issue: the local file or folder with the same name opened when double-clicking the file or folder of Share/NAS node.
10.Fixed issue: after recovery, file properties (read/hide) have changed.
11.Fixed issue: in the email notification, there is no subject or the subject displays as garbled characters.
12.Fixed issue: the source partitions are incorrect when running a scheduled partition backup task.
13.Fixed issue: after the Shared /as username and password are changed, the program does not prompt for re-entry.
14.Fixed problem: error code 33 (failed to read sector) occurs when backing up or cloning disks and partitions in some systems.
15.Fixed issue: error code 214 (insufficient space on the target disk) happens when restoring or cloning disks and partitions in some systems.
16.Fixed issue: error code 4161 (target location is not writable) occurs when syncing or restoring files in some systems.
Free download AOMEI Backupper standard 4.1.0:
Download Link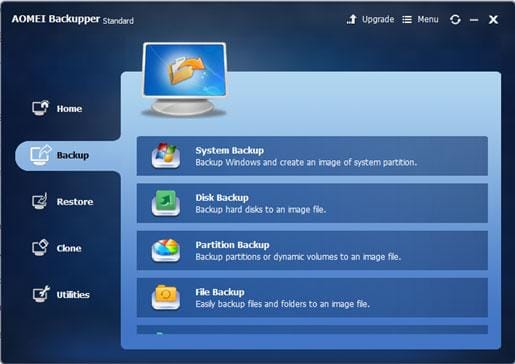 Key Features of AOMEI Backupper:
System backup and create a system image to secure Windows and applications.
Backup entire hard disk (HDD), SSD or specified partitions to create an image file.
Backup or sync your most important files and folders on a regular basis.
Set and forget with automatic backup, incremental/differential backups to save time and storage.
Clone a smaller HDD to a larger HDD for disk upgrade, or clone HDD to SSD for better performance.
Real-time file sync(New Added): monitor files for changes and synchronize new added, modified or deleted data from source to target path as soon as the change has occurred.
Afterwords
AOMEI Backupper can back up all the data in the system drive to an image file. AOMEI Backupper also provides advanced level users with the function of incremental backup to improve the backup efficiency and further reduce the storage space required by the image file. AOMEI Backupper not only supports to create a system image but also allows to disk backup, partition backup, file backup.etc. So it is wise to do a complete full system backup at intervals no matter how old the computer is, because if there is any system problem the system can be restored to the previous normal state quickly and conveniently by the backed-up image file. Try this software today?