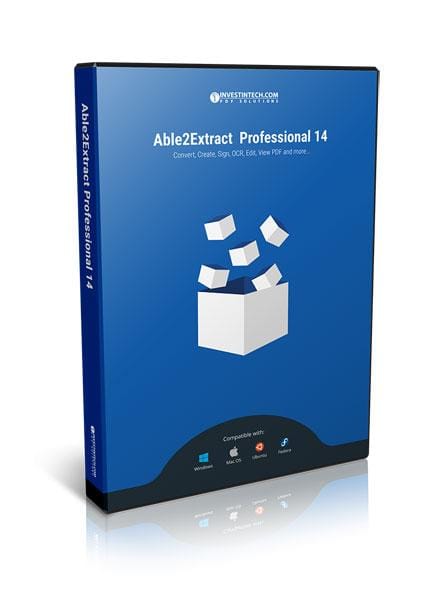 If you are a man of the modern era, you must use a pdf format docomeent. For PDF format docomeents, you can use various kinds of PDF software for Windows. Five years ago, Adobe PDF Reader was the only reader that solves all the problem of PDF. However, the era of Adobe PDF has gone.
After using Adobe PDF reader, I have used many applications for PDF, like Foxit Reader, Nitro PDF, PDF-XChange Viewer, and many other PDF software that I hardly remember. None of them have a complete solution for what I need. I am spending some money on PDF software, so I did some research. I searched on Google for some specific functionality of PDF software and got a handy and powerful handy PDF software.
The new Able2Extract Professional 15 is out, introducing a modern graphical user interface & dark theme support for working with docomeents in low-light conditions.
Latest Version of Able2Extract Professional Features
Here's a selection of improvements and upgrades available in the latest version:
Able2Extract Professional 15 has been translated to Spanish, German, and French and the OCR engine was upgraded to recognize Spanish, German, and French special characters accurately;
Batch Creator tool – Create PDFs from multiple files in one go! Users can also merge created PDF files to get the output as one docomeent;
Batch PDF to HTML addition;
Create a blank PDF docomeent and populate it with text, images, form fields and more;
OCR engine improvements – enhancing bitmap quality before OCR and edge detection for raster-to-vector (R2V);
Finer grained control over table structures in Custom PDF to Excel – Specify table headers & footers and text splitting settings for each table (table structure) individually;  
Split the docomeent into even parts in just a few clicks;
Hand tool for easier docomeent navigation.
In 2015 I wrote a blog about the five best PDF software of 2015. It has already been three years, and the market and software have not changed since then. Today I am trying to give a fair review of Able2Extract Professional PDF.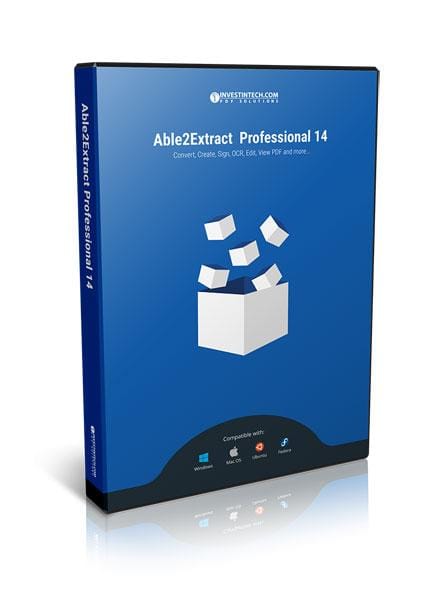 Able2Extract Professional – All in One Tool for PDF Users
Investintech.com develops Able2extract PDF software. It can run on a very low resource computer and has a tremendous range of functionality. The basic needs of every PDF software are creating, edit, and Secure the PDF. The other thing of the PDF is to modify the print facility for office purposes.
After the basic functionality from the PDF software, you need to convert the PDF into another file format like Microsoft Word, Excel, or PowerPoint slides. For converting the PDF software to another file format, you need a very efficient and powerful PDF software that can render the output file precisely as you need.
PDF Conversion Features
Able to extract PDF software can convert your PDF to Microsoft Excel, CSV format, Microsoft Word, Microsoft PowerPoint, Microsoft Publisher, HTML, AutoCAD, or Image output (JPG, PNG) with many more options.
I am attaching the different options of different output modules here.
<blockquote class="imgur-embed-pub" lang="en" data-id="a/soRAfte"><a href="//imgur.com/a/soRAfte"></a></blockquote><script async src="//s.imgur.com/min/embed.js" charset="utf-8"></script>
PDF Creation Features
After exporting the PDF into a different format, the next important feature creates a PDF from a different source like image or word file. The main problem I faced in different PDF software that after creating the PDF, the PDF file became very large to upload or to share with other people.
Able2extract has an inbuilt function to compress the output file as you need, you can adjust the resolution and the paper size for your desire PDF size. Another function of creation is maintaining the font you use in Microsoft Word. Able2extract has high compatibility with the fonts with Microsoft Word. You can also give higher security by securing the PDF with a different range of permission given, which is indeed an essential feature for PDF creator.
I am attaching the features of PDF creating with different more options below.
PDF Editing Features
Now the question of PDF editing comes. Able2extract has the best feature to edit the PDF. The reason I am using the able2extract professional is there editing future. For PDF editing, the first thing to consider is giving the page number at each page of the PDF, adding watermark, check the file with OCR option. I also need to make some small adjustments with the existing file, like adding some comments, deleting some lines, or insert a hyperlink.
I am adding different panels of the Editing panel of able2extract PDF software with the screenshots here.
Signature Feature
If you need to have a signature feature if you want some official signature on your created or edited PDF, Able2extract has some cool features to add a signature at the bottom of the PDF with a significant range of functionality. At the signature by three different methods.
Check the Screenshot
Wrapping it up
If you want to buy a professional PDF software that has a large number of functionalities, you must try able2extract PDF software.
A simple feature to compare is the export to excel facility. Most of the PDFs in the market convert excel in an automatic manner in which you have no control. However, in this able2extract PDF, you can export the PDF to excel in a manual way by selecting the column or row. It is a very powerful and handy PDF software for PDF files.
Download Link:  Windows |  Mac |  Ubuntu
This software makes like an all in one tool for the PDF files. Moreover, you can use the PDF software with a free license. If you are going to buy the professional license for the PDF software, you can see that the license price is about $150, and I can assure the software worth this money. If you need any feedback for the Able to Extract PDF software, feel free to contact or comment.