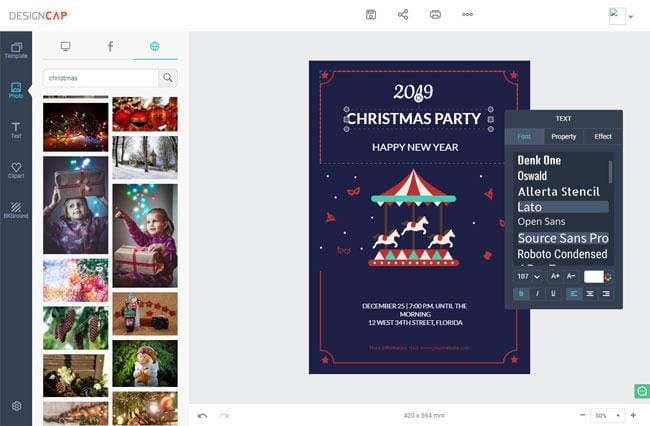 The season of gift-giving is just around the corner. Are you ready for a big Christmas party or event this year? Just yell the people around with an amazing Christmas poster. It's great and fast to spread the joys and happiness. However, if you ask a professional design company to do this, it would cost you much. Why not design it yourself? Don't know how? DesignCap would help.
DesignCap is a free poster maker to help users create custom posters in minutes, no advanced graphics skills needed. It's completely free of charge. You can just use it to make your Christmas night party poster and print it out to give a long-lasting, action-inspiring effect to your visitors.  Let's get on making an awesome one.
Read: The Best Logo Creation Apps to Use in 2019
How to maker s Christmas poster with DesignCap?
Google DesignCap or directly open its site here:https://www.designcap.com/. You will see a button "Make a Free Poster/Flyer." Click the button to get into the app and start your design.
Choose a Christmas poster template
Entering to editing mode, you will see there are hundreds of poster templates in DesignCap at the left of the window. Scrolling down the sidebar, you can go through and take a look at these beautiful templates. Find the one you love and click on it to continue editing it. You can pick the categories like Party, Holiday, Festival to find a suitable template quickly. If you already get something in mind, just start a design without any template. And I just take this template as an example.
Would you like to add some personal touches to make your Christmas night party poster unique? Just add your photos, include your text details, and make it in your style.
Add your photos
DesignCap allows you to add photos from your Facebook album as well as from the local computer. Besides, you can also search for photos online and use them for free at its database since it is integrated with Pixabay. You can just type your keywords into the search box and search it online.
Once the photos are added into the photo list, you can simply drag and drop it into the canvas and put it anywhere you want. Then adjust the photo with photo effect, opacity, exposure, brightness, etc.
Read: 10 Unconventional Logo Designing Tips for Everyone
Fill in the details of your bazaar on this poster
It couldn't be easier to get people excited about your event. So tell your friends and neighbors the party time and address so they could join your carnival on time. Once every info is written on, you are free to make some changes to the text font, color, size, alignment, effect, and so on to make it looks perfectly attractive. Since the interface is straightforward, I'm not going to show you how to make the changes one by one.       
Decorate your poster with clipart images
There are hundreds of clipart in DesignCap for decorations. Browse the different categories and add some cute and fun clipart ornaments on your Christmas poster. It gives you the options to adjust the clipart images' opacity, brightness, contrast, saturation, and more like a photo image.
Besides a large amount of clip art, you can change the background for your poster if you want. DesignCap offers three ways to change background: solid color, gradient color, and preset patterns. Here I just keep its original one. 
Read: 5 Tips to Create Stunning Form Without Knowing Single Code
Once everything looks great and satisfying, directly share it on your Facebook with your friends and family. Or save it to your computer and then share them in other ways. Besides, you can also just print it out directly in DesignCap. And a piece of practical advice is to save your poster as a project in case you wanted to make a little change the other day. Let's see the one I made just now.
Why choose DesignCap?
It's very fun to make a Christmas party poster using a steadfast festive formula made up of color, image, text and layout, and so on. But why I recommend you DesignCap? Here we come. 
It's a cost-effective way to make an amazing Christmas poster to make the night party announcement. It won't charge you a cent.
It's user-friendly and with a tidy interface that you know what and where you should do next. Almost everything can be done with just a few clicks. 
It offers hundreds of professionally designed templates for posters and fliers for various occasions and events. It also offers a wide variety of stock photos, clipart images, shapes, fonts, and backgrounds.
It can be used flexibly with lots of powerful editing tools that let you customize your posters and fliers like a pro with only a few mouse clicks. You can easily adjust any object's size, position, rotation, change text font, color, effect, alignment, apply specific background and manage layers.
Although it is free to use, the file you can save is a high resolution without any quality loss. It offers you four options to choose: small, medium, large, XLarge. All of this option are free to choose.   
No download or registration required
The whole process can be done online. There is no need to download anything on your computer. And there is no need to register; you can finish your own Christmas poster just online.
Read: Online Logo Design Tool Helps You Make Free Custom Logos
It's time for spreading joys!
This is the season for spreading and sharing good cheer! Want to make this Christmas brighter and merrier? Announce by making a Christmas event poster and ask your friends and neighbors to join your party and spread happiness.  After all, the true spirit of Christmas lies in giving selflessly and sharing the heartwarming experience with strangers and friends alike.  Since then, why not get fancy your friends, family or neighbors this Christmas starting from a Christmas poster?