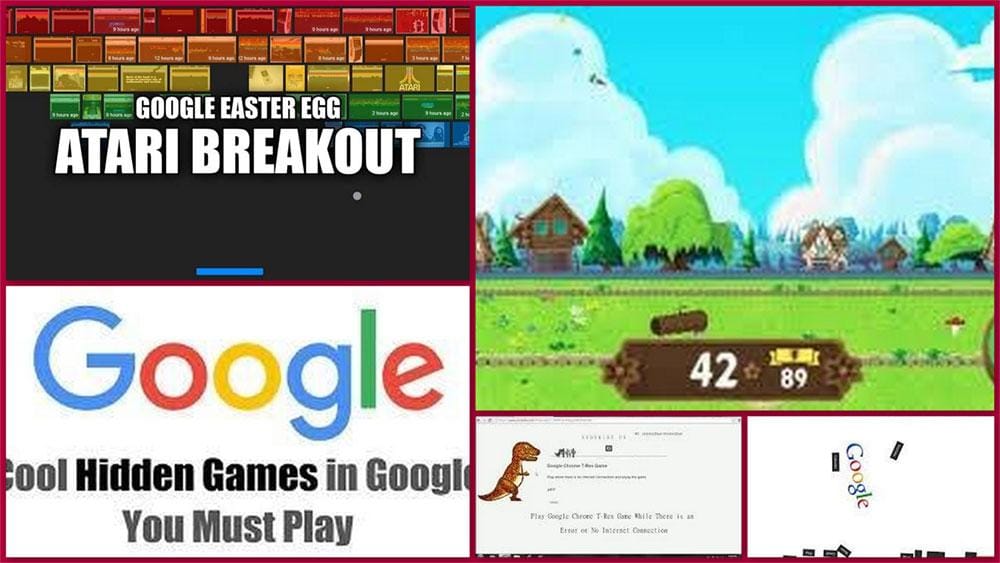 Google is the best search engine. But you may not know about the games that Google provides you. Yes, you can play so many simple games while using Google Search Engine. This article will reveal you the name of best 5 Google games that you do not know about. Stick through this article and see for yourself how can you spend your time relaxing and chilling on Google. Bored with the social media these games will refresh your mind and rejuvenate the spirit in you to work.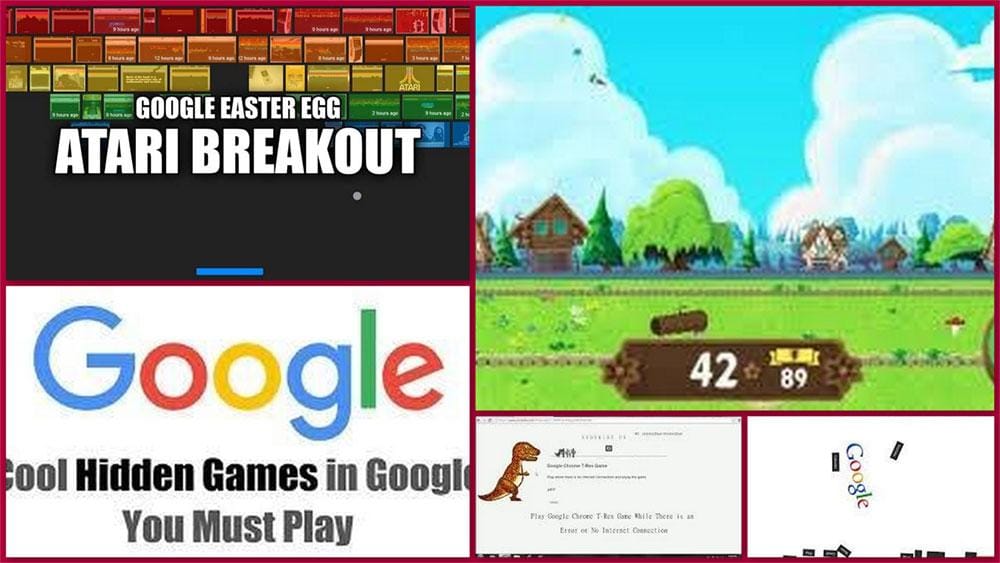 So, let us start with the article and the first game we are about to talk about is:
Atari Breakout
This game is a classic which was developed by Steve Wozniak and Steve Jobs. But later on, Google introduced this game as its hidden game for its users. Atari Breakout is one of the best Google games, and it is famous among, both, kids and teenagers. You can also try your luck at this arcade game and see how skillful are you.
See  Why Atari Breakout is the Best Unblocked Game
Just type "Atari Breakout" in the Google Images search bar and press enter. Your game will be activated. In the beginning, you will have 5 balls and a slider at the end of the screen. After that, you can observe that there will be five rows of images (sometimes there will be four) and you have to use your mouse or the left/right keys to control that blue bar on the bottom of your screen. The balls will bounce on the bar and destroy the images like a ball does to a brick.
If you destroy all the images on the screen with a ball left with you, you will be promoted to the next level, if you win then, Google will show you the options to share your highest score on social media and brag in front of your friends.
Atari Breakout was the most addictive game of Google at a point and is still played. You should also try "Atari Breakout."
Google Gravity
It does not sound attractive, but it is actually. You just have to type "Google Gravity" in the search bar and click on the tab that reads "I'm Feeling Lucky." After that, you can see the magic happening in front of your eyes. Every tab on the screen like the Gmail box, the search bar, the icons on the screen will fall down like gravity is acting on them.
Pac-Man (Google Search)
In 2010, it was introduced as a doodle, and after that, it has become pretty famous on Google. On 21st May 2010 "Pac-Man" celebrated its 30th Anniversary, so Google decided to dedicate a doodle to it. If you still want to recollect your memories, just type Pac-man in the google search, and you get to play the most exciting game of childhood. You will jump into a timeless business to avoid Inky, Pinky, Clyde, and Blinky.
Enjoy Pac-Man!
T-Rex Run (Google Chrome Browser)
This is not basically a Google Search Engine Game, but this game is developed by Google for its browser, Google Chrome. Whenever you cannot connect to the Internet, you get frustrated. To help with that frustration, Google has designed a game, named as, "T-Rex Run." It is the second most famous game after "Atari Breakout."
Whenever you feel to play the game, just turn off your device's Wi-Fi. After that, your screen will show a T-Rex, press spacebar and it will start running endlessly. On the way try to avoid the cacti and pterodactyl. The pace of the dinosaur will increase with time, and the daylight will become the night. You have the challenge to beat the high score every time, and you will never miss the loss of your Internet Connection.
Garden Gnomes
This is the latest Google game, and Google introduced this as a doodle. Not many of us know about this, but on 10th June 2018, Germany was the venue of the Garden Day, which was organized and observed by Google. It was previously a doodle, but now it is not available in its previous version. You can do a Google Search for it and play it.
It is somewhat like the Angry Birds game. In this, you will give a catapult, and the gnomes will be the throwing items. You aim to use the catapult as a pivot and try to trebuchet it to the farthest point. It is highly addictive, and Google is successful in making this game a trend.
Conclusion
Google is not only providing us with the fastest and the most efficient search engine, but it is also giving us many hidden games to play which will refresh our minds.
Atari Breakout is the best of all the games, as per our opinion but you can try each and every game.
Try the games today itself and comment down below which is your favorite game and why you love to play it. If you face any trouble or have any doubts in mind, feel free to comment down below.
Till then stay tuned for the next article…