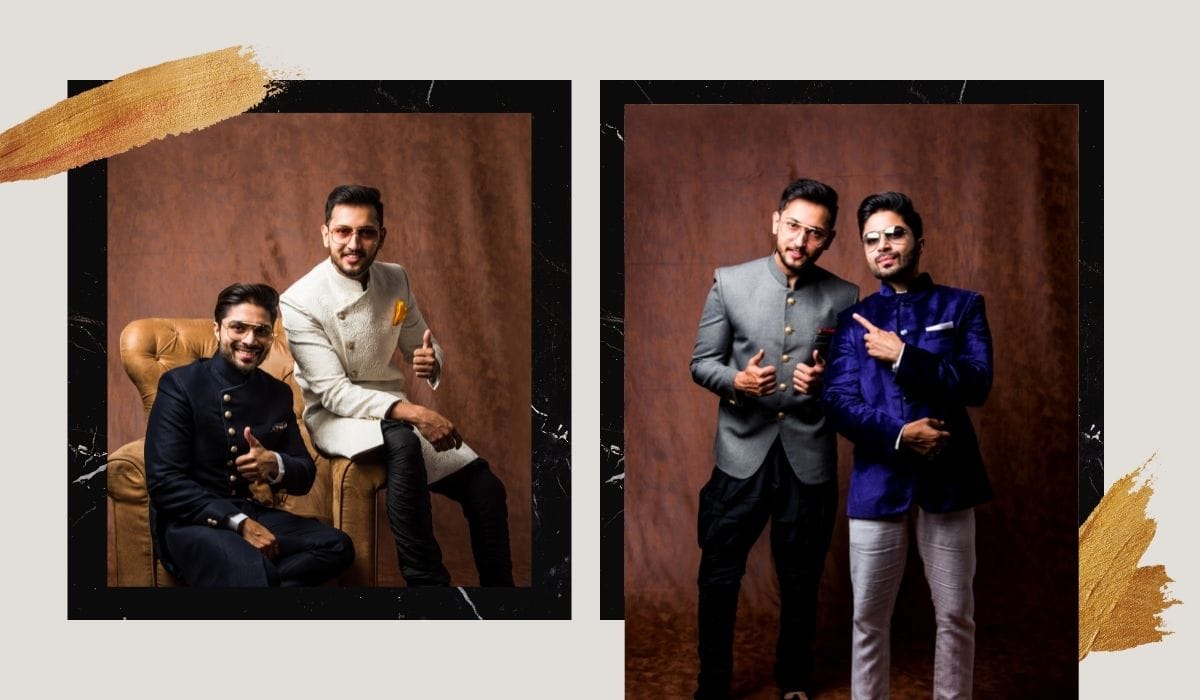 It's time to play catch-up with your bride and look just as stylish as she does when you walk down the aisle! Step into the latest men's wear for Indians at summer weddings to score major style points!
Whether you're preparing for your wedding or for someone you care about deeply, you'll want to look stunning on your big day. These days, picking out the perfect outfit is hard enough as it is with all of the designs available in modern menswear stores, but that doesn't even include the dozens of traditional men's outfit styles such as sherwani and kurta pajama to sort through!
Also, in the Indian wedding dress industry, designers are creating a variety of stylish designs for grooms to wear in the summertime. Grooms cannot complain about the lack of options anymore! The focus is on style, comfort, and quality with each design. Intricate embroideries are seen on jackets, the addition of cowls or "Kolis," hemline designs, and many different shapes of sherwanis that flow elegantly while still being cool can be found. If you're looking for an Indian wedding dress for a groom in the summertime that looks good and keeps you comfortable all day long, you've come to the right place!
Top 7 Best Wedding Styling Tips For Men
1. Sherwanis For Summer Wedding
When hosting an Indian wedding, it is recommended to wear a Sherwani as the men's dress code. The best thing about this outfit is that it's suitable for practically all occasions in India involving occasions in the summer. You can pair or jacket with lighter fabrics made of cotton or silks during the hot seasons and you will look great! You can also wear a saree with a Dupatta for your lady friend made of chiffon or silk.
2. Summer Printed Sherwani
Who doesn't love wearing printed shirts for men in summer? But, If you have to attend a summer wedding. Don't be afraid to consider a printed sherwani as an option for your groom. This wine-hued bridal collection features touches of paisley print. Are you looking for an outfit made of Indian fabrics with fine detailing and classic styling that take inspiration from menswear? Look no further than this fine-suit sherwani and its modern accents. This groom's sherwani features a mandarin collar with a single chest pocket. You'll love it paired with any traditional or contemporary bottom such as wide-leg trousers or chinos for weddings, cocktail parties, or social gatherings into the fall and winter months.
3. Dramatic Nehru Jacket
Add drama to your best bro's wedding. And fret not; it will just be your outfit. Your best bet is to go for something on the more traditional side in true Indian wedding style. Style the Nehru jacket with an elegantly pleated kurta or Rajasthani printed shirt, or a pinstriped pair of churidar pants, or chinos, and either leather jutis or brogues.
4. Lilac Hued Sherwani For Summer Wedding
Summer-inspired wedding dresses for grooms are the fashionable choice this spring! Whether you are a groom-to-be or not, pastel shades are an exciting way to show your love for the lovely season. This mauve sherwani with sequins and pearls is a delightfully charming option for summer weddings. This magnificent outfit is from Manish Malthora's current collection. It combines lustrous silk fabric with zari work, so bring your besties over for a celebration when you dress up in this outfit!
5. Emerald Green Velvet Sherwanis
Why stick to the normal black tux when you can go with green? It's a fun way of adding flair to an already-excellent showstopper of a tuxedo. Wearing this kind of velvet sherwani with vivid emerald tones that match your bride's royal lavender lehenga is going to make for pictures you score big in – and also tends to make adoring onlookers' mouths water as well! Wear this on your big day for men and see how heads turn, eyes are riveted, and jaws drop!
6. Blue Indo-Western kurta For wedding
Add some blue to your wardrobe look with this sophisticated Indo-Western kurta dress combo. The royal blue kurta jacket is adorned with beautiful buttons, sequins, and a rich embroidery design paired with a matching tonal blue dupatta. This has got to be one of the best' engagement dresses' you cannot miss out on!
7. Bandhgala Summer Wedding Dress
Traditional wedding clothing in India can include a bandhgala suit, a dress shirt with banded waist pants, and a matching scarf to cover the neck and shoulders. Indian royal princes originally wore these garments, but they are now popular among grooms at modern Hindu weddings regardless of caste or religious orientation. This outfit is stylish Indian wear for the wedding season because it has lovely detailing that reminds you of ancient tradition during an exciting time when you're getting married!
Conclusion
It's your wedding day, and you want everything to be perfect. One of the most important things is your wedding style, including your wedding attire, groomsmen's attire, and the groomsmen's accessories. It may be hard to know where to start with so much on your plate. We hope this blog post has provided some great ideas and tips to help you figure out what you want to wear and how you want to style your wedding party.