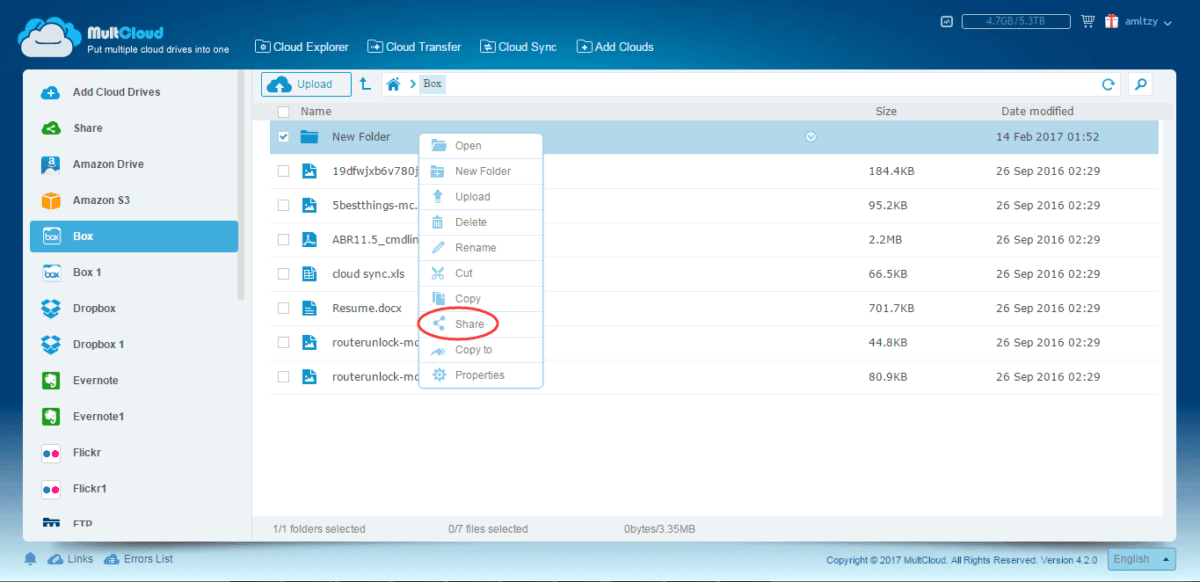 MultCloud 4.2 Overview
MultCloud is a famous multiple clouds manager in the market. It is a web app that combines many cloud services in one place. Thus, it lets you transfer, sync between different cloud drive easily and directly. MultCloud is safe to use, from its earlier version to the latest 4.2 version, it has helped us manage clouds nearly four years.
New features of MultCloud 4.2
Here, we are mainly focused on what's new of MultCloud in 4.2. Before 4.2, MultCloud only has English and Chinese languages, since 4.2, MultCloud added German and traditional Chinese. Another update is improving share feature and add upload & new folder actions in Share page. I tried this function and think it is very useful!
Right click a folder in any cloud drive in MultCloud, and create a share link.
In the Share Manager, make the shared folder "Allow to Upload".
Then when your friend visits the share link and opens the folder, he can create a new folder and upload files to it. Notice that after uploading, your cloud drive will be synced too.
You see, the share link is like a workgroup, all your friends know this place can upload data to here.
More about MultCloud
Managing files in MultCloud is like in Windows explorer. There are cut, copy, paste, preview, delete, rename, download, etc in the context menu.
Cloud Transfer is a core function of MultCloud. MultCloud even supports transferring after power off once you set schedule. In this interface, you can move files from Dropbox to OneDrive directly without downloading and re-uploading.
Cloud Sync is a core function too. MultCloud provides eight sync ways: simple sync, mirror sync, move sync, comeulative sync, update sync, incremental backup sync, full backup sync and two-way sync. Details of sync cloud drive.
MultCloud supported clouds are: Dropbox, Dropbox for Business, Google Drive, Box, Amazon S3, Amazon Cloud Drive, SugarSync, Alfresco, hubiC, Evernote, OneDrive, OneDrive for Business, MEGA, Egnyte, CloudMe, Cubby, MyDrive, WEB.DE, Yandex, HiDrive, MySQL, Flickr, MediaFire, ownCloud, ADrive, Baidu, WebDav and FTP/SFTP. If you are looking for a multiple clouds management application, MultCloud is a great choice.