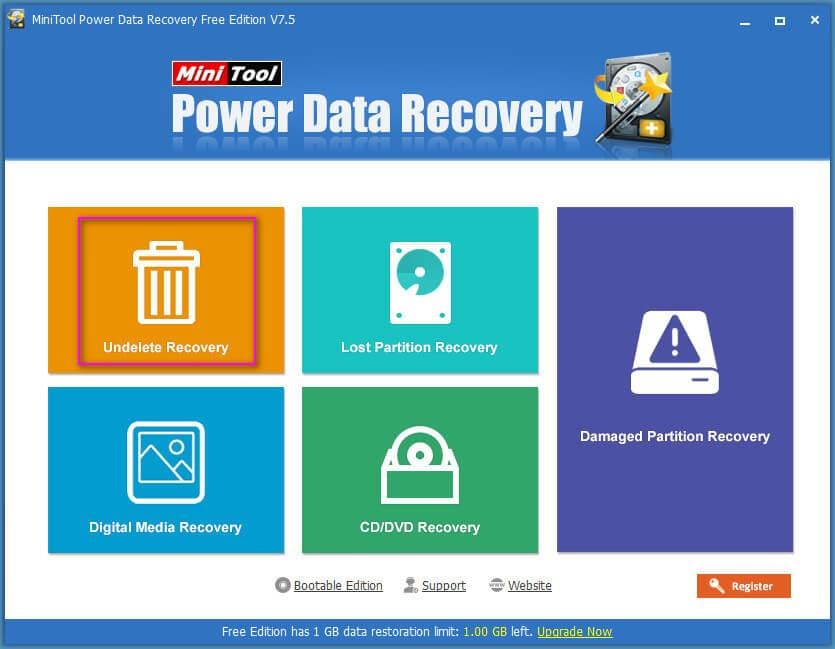 If you have deleted a file/folder on Windows by choosing it and pressing the "Delete" button, it will be moved to recycle bin and will be kept there for a period. However, if you have deleted the file or folder by pressing "Shift" + "Delete" simultaneously, you can't find it in recycle bin. Today, we're going to talk about how to recover a deleted file or folder in the latter case.
In this part, we'll show you how to finish deleted files recovery with ease. And we'll take Windows 7 as an example.
Firstly, choose a powerful recovery tool for Windows. MiniTool Power Data Recovery is recommended. Just get the free edition from a reliable link.
Secondly, run this tool after you have finished the installation. Then, choose "Undelete Recovery" from the main window, as shown below.
Thirdly, please make sure which partition stores the deleted file/folder. Then, pick it out from the partition list and click on the "Scan" button to search for your deleted item.
Fourthly, browse the scan result and check the file/folder you need. At last, click on the "Save" button to choose a safe place to store it (you're not advised to save the recovered file/folder to its original partition).
Now, you know clearly about how to recover permanently deleted files on Windows? After that, we'd like to explain how to remove data permanently in detail.
2 Ways to Delete A File or Folder Permanently
After telling you the way to recover a deleted file or folder effectively, we'd like to show you how to remove an item permanently on Windows.
The first way is to the right click on the file/folder you don't need anymore, and then choose "Delete" option from the pop-up menu. (This can also achieve by choosing the target file -> pressing "Delete" button on the keyboard.)
Then, a "Delete File" prompt window will appear to ask you to confirm the action of file deletion. If you want to move that selected item out of the computer, you should click "Yes" at this time. On the contrary, click "No" to cancel.
After that, you should enter the recycle bin -> right-click on the specific file/folder -> choose "Delete" -> click on "Yes" to complete the permanent file deletion.  Or you can right-click on the recycle bin icon and choose "Empty Recycle Bin" to delete files permanently.
The second way of deleting a file/folder is: select a file or folder as a target -> press "Shift" button and "Delete" button at the same time -> click "Yes" in the pop-up prompt window to allow the permanent deletion.
Still, have questions about how to recover deleted files in other cases? You may click here to know more.