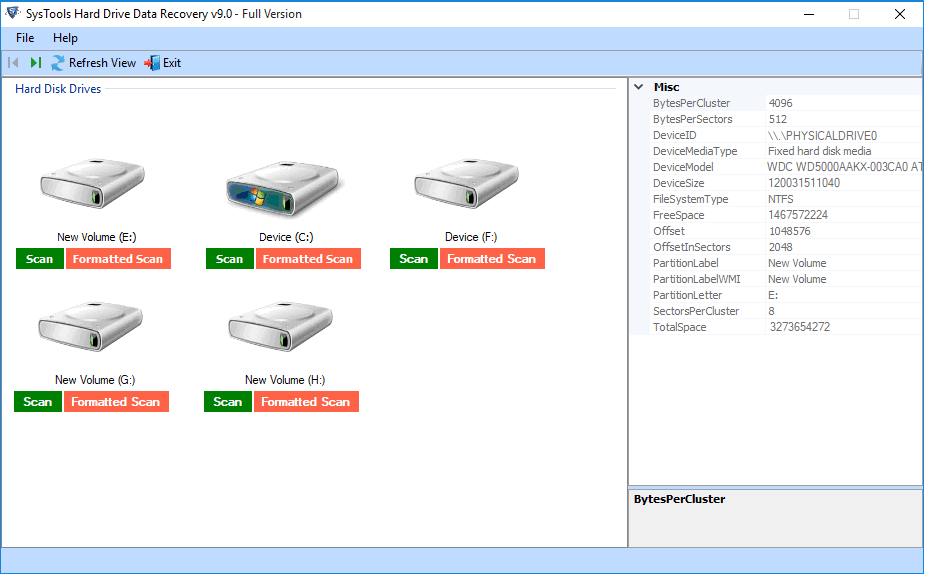 To get a practical and secure solution to recover deleted data files from portable gadgets or devices, then read the article once.
Nowadays, our life is like a speeding train where technology plays an important role. Everywhere & in anything the technology being used. In fact, things become more advanced and efficient in term of information technology to make our life smooth and facile. The best version of the technology is the portable gadget that connects a person with the digital world across the globe. For example, a cell phone that becomes a necessary device among the population because of its features like speed, efficiency, and portability.
Unfortunately, every portable storage device is vulnerable to a data loss situation. The reason can be anything such as improper plug-ins or removal, accidental data deletion, and sudden shutdown due to battery loss. However, the deleted files will not be eliminated from the portable device unless it is overwritten by another data item. So, it is always advised to stop using the device in which data loss disaster happens. Also, use a secure and appropriate data recovery workaround that will discuss in this post to recover deleted data from portable devices with ease.
Recover Deleted Files from Portable Device Within Few Clicks?
If the user just accidentally deletes the file from any portable devices such as SD Card, flash drive, external hard-disk, laptop, tablets, digital camera, cell phone, etc., then only show your trust in SysTools Hard Drive Data Recovery Software.
Hard-Disk Drive Recovery is award-winning software that makes a user enable to get back removed data file from the devices such as memory card. With the help of this tool, one can restore images, videos, audios, docomeents, and other data from the portable device with a 100% recovery rate. This tool has built after considering the need of users. Thus, users will receive a professional software that has all the qualities that they want. Apart from this, a simple and intuitive interface makes the entire process easy for any non-technical person.
Let's check out how to recover deleted data from portable devices with the help of software.
Prerequisite:
The user needs to fulfill the following requirement to extract the deleted data from the storage devices:
Download the impeccable Hard Drive Recovery software on Windows Operating system. It supports Windows 10, 8.1, 8, 7 or all below editions. Moreover, the utility requires 100 MB free space on hard-disk for the installation. If you find any problem to download the tool, then freely contact the technical support team.
Once the software installed in the system, then connect the portable device in which data loss happens with the computer.
Once you have done with the above steps, then go through the below sections for the complete recovery process.
Steps to Recover Deleted Data from Portable Hard Drive
Perform the steps listed below to retrieve deleted files from the portable device.
Launch the SysTools Hard Drive Data Recovery software.
Once it is opened completely, it shows all the connected devices and internal disk partition on the welcome screen. Select the portable device volume and click on Scan. Here, you can also choose Formatted Scan when the device is formatted.
The utility scan the entire device storage and view all its data on the software interface. Here, you can see all the permanently deleted data shown in Red color. The software provides this feature for user ease.
If you want to recover only one type of file from the device, then click on Search option from the left side navigational panel.
Finally, click on Save to recover deleted data from the portable device.
Important Note:- If the data is overwritten by any other data item multiple times, then it is possible that no data recovery takes place. So, it is recommended that do not use the storage device when the data deleted.
Some Other Striking Features of Software
The utility offers many robust characteristics that make it an ideal solution for the recovery from the drive.
Restore shift-deleted data items from external as well as internal hard-drive.
Self-guided user interface & support Raw data recovery.
Support data recovery from formatted or corrupted file system such as NTFS.
Capable of restoring deleted data from GPT & MBR partition quickly.
How to Recover Files from Portable Hard Drive – User's Query!
Here I am going to list some user's queries. All the questions are taken from different forum sites:
"I am using Seagate external hard drive to store important files. Last night accidentally deleted some files. I checked to recycle bin folder, but nothing found. Is it possible to recover deleted files from portable hard drive?"
"Hello, I am a doctor, and I used to keep my patent information in my external hard drive. Last night my son used that disk and deleted everything. Now I want to know a proper solution to recover deleted data from the portable hard drive."
"I don't know how I lost my files from a portable hard drive. I tried performing CMD command to retrieve lost files but failed to do that. Also, the recycle bin option did not help me. Is there any possible way to recover deleted data from the portable hard drive."
Solution: – In all above queries we can clearly understand that the once data deleted from portable hard drive. Then the manual recovery solutions fail to retrieve files. In this situation, you need a safe and secure solution for data recovery.
Wrapping Up
It does not matter in which country we are living; we all are using any portable devices to make life easier. But it is just like a nightmare when the critical data will be removed from the device by mistake, and your hands remain empty. However, we realize the importance of data items of handy storage devices. Therefore, we have discussed a fantastic solution, i.e., Hard Drive Recovery tool that can quickly recover deleted data from a portable device.