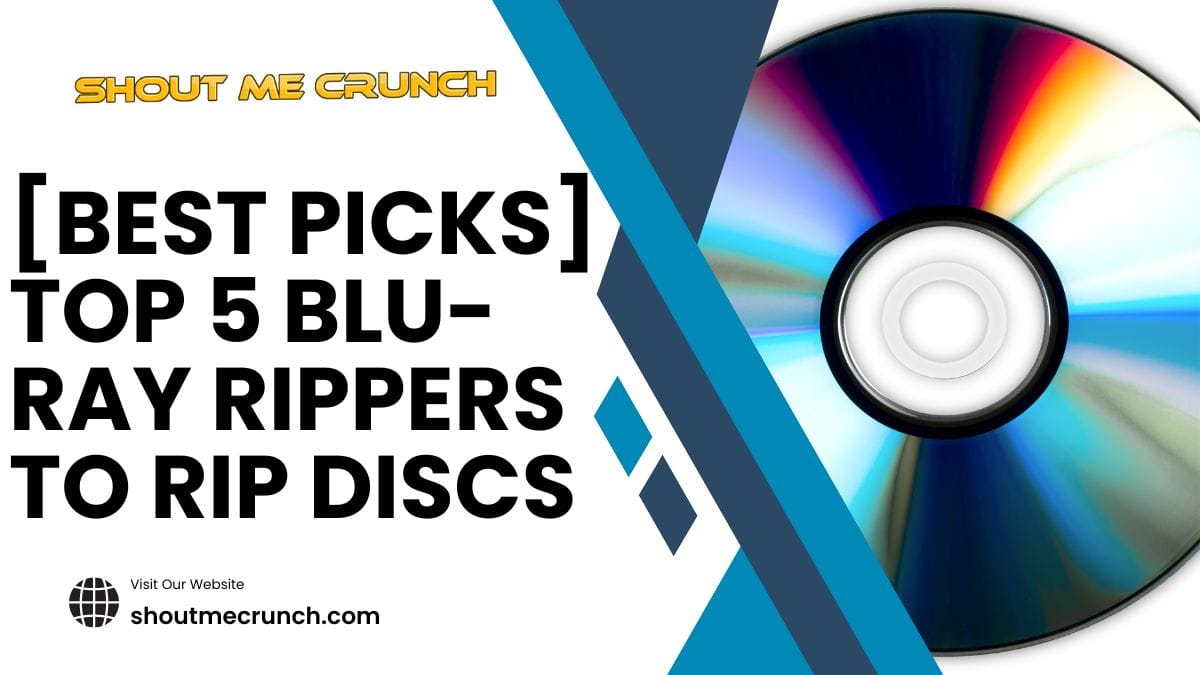 If you are an avid Blu-ray collector, you must have a bunch of Blu-ray discs. However, the advent of the digital age has made discs less popular. On the one hand, discs are prone to wear and tear. On the other hand, you have to use a special Blu-ray player drive to play Blu-ray movies. So, what can you do with the Blu-ray discs collected at home?
Fortunately, there are many Blu-ray rippers on the market for PC. If you want to find a powerful Blu-ray ripping tool to convert Blu-ray to digital files and play them anywhere, you have come to the right place. This article presents the five paid or free Blu-ray rippers. Read on and choose your favorite one.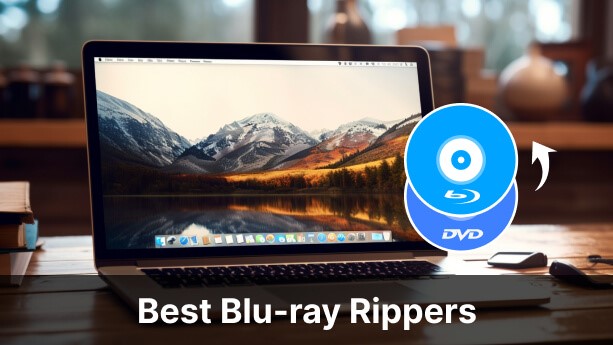 Contents
What is the Blu-ray Ripper
Top 5 Blu-ray Rippers
How to Rip the Blu-ray
What is Blu-ray Ripper
A Blu-ray ripper is a computer software that can copy an HD DVD or Blu-ray to a hard disk drive. Once converted a Blu-ray disc into a media file, you can play it like the original disc on your computer. Then, you can burn it to a new Blu-ray or convert it into other file formats.
Some Blu-ray ripping software allows you to create small files for playback on mobile devices, while others are limited to large files. Usually, most Blu-ray ripping software is available for Windows and Mac.
When you want to watch Blu-ray movies or TV shows on your computer, phone, iPad, Apple TV, etc., you can try some Blu-ray ripping tools. Read the next part to get one.
Top 5 Blu-ray Rippers
Top 1. Tipard Blu-ray Ripper [Windows and Mac]
Tipard Blu-ray Ripper is the top Blu-ray Ripper for Windows 11/10/8/7 or macOS systems. This 4K Blu-ray ripper enables you to rip 4K Blu-ray with original quality. And it can help you to handle the homemade Blu-ray discs. Moreover, it supports converting your Blu-ray to an ISO file or Blu-ray folder.
When ripping the Blu-ray, you can edit the specific titles, add audio tracks and subtitles, cut the movie length, etc.
You can also output the Blu-ray file to over 500 file formats. Then, you can enjoy the playback on your computer or mobile device. More importantly, the ripping process can be finished at 80× fast speed.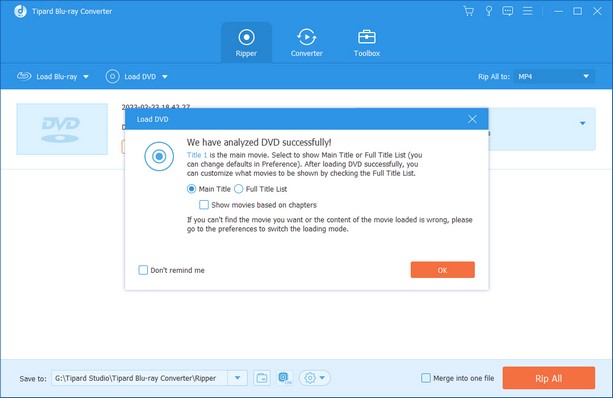 Acrok Blu-ray Ripper is also called Acrok Video Converter Ultimate. It is one of the best Blu-ray rippers on the market. It is compatible with the Windows and macOS system. This Blu-ray Ripper lets you rip 4K or 1080p discs to various file formats, such as MKV, AVI, MP4, WMV, FLV, MOV, and more.
Moreover, it can retain lossless quality after ripping. And its ripping speed can go up to 10× faster than ever.
Acrok Blu-ray Ripper is powerful, but it also has some limitations. It only supports ripping Blu-ray discs to digital formats instead of ISO files or DVD folders. Meanwhile, it cannot preserve the subtitles, chapters, and audio tracks after ripping.
Note:
Acrok Blu-ray Ripper doesn't decrypt region codes and copy protections. And it only allows ripping to audio in the free version.
Read also How to Use VideoSolo BD-DVD Ripper to Rip DVD Disc (shoutmecrunch.com)
Top 3. Leawo Blu-ray Ripper [Windows and Mac]
Leawo Blu-ray Ripper is one of the popular Blu-ray rippers for Mac and Windows. This powerful ripping software can copy a Blu-ray disk or folders into other video formats. And it will preserve the original video quality after outputting. More importantly, its decryption technology can remove the Blu-ray copy protection. In addition, it also offers extra functions, such as the conversion of 2D into 3D and video editing.
Nevertheless, Leawo Blu-ray Ripper is not free ($44.95/year). Compared with other professional Blu-ray rippers, the price is much more expensive. And the ripping process is a little slow. Besides, it cannot recognize your ISO files and forced subtitles.
Top 4. MakeMKV [Windows, Mac, and Linux]
MakeMKV is one of the free best Blu-ray ripper tools for Windows, Mac, and Linux. It can rip your Blu-ray to MKV for playback easily. And the output quality is fantastic when it's done. Meanwhile, the format converter will preserve most information but not change the file content. For example, it can preserve the chapter's information and track languages.
However, MakeMKV also has some drawbacks. It supports outputting the MKV format file only. And its processing speed may be slow. Besides, it won't compress video when ripping. So, the output file will be very large. Thus, you must compress the file size if you have limited storage space.
Top 5. HandBrake [Windows, Mac, and Linux]
HandBrake is a fantastic Blu-ray ripping software for Windows, Mac, and Linux. This free Blu-ray ripper can batch scan and queue functions with a fast conversion speed. And it provides various output settings for specific formats and devices. By the way, it also offers features to edit the movie before ripping, such as adjusting the subtitle, audio, dimension, chapters, etc.
However, when ripping Blu-ray to digital with HandBrake, it doesn't work with handling encrypted Blu-ray discs or DVDs. So, it's useless on many Blu-rays. And it may be complicated for some beginners with the user-unfriendly interface.
All the above 5 software can help you to rip Blu-ray. Here, let's take Tipard Blu-ray Ripper as an example. Learn how to rip Blu-ray in a few steps.
Step 1. Connect a Blu-ray drive
Insert the Blu-ray disc into your Blu-ray drive. Connect the drive to your computer. Then, download and open the Blu-ray ripper on your desktop.
Step 2. Load the Blu-ray disc
Click the Load Blu-ray button to choose Load the Blu-ray Disc. Then, select the disc you inserted before.
Step 3. Set the output format
After loading, the ripping software will analyze the Blu-ray disc. Now, you can tick Main Title or Full Title List for ripping. Click OK to enter the ripping interface. Next, pull down the list next to Rip All to and select an output format, such as MP4.
Step 4. Rip Blu-ray
Set a destination folder to save the output videos. Finally, click Rip All to start the Blu-ray ripping process.
Besides ripping, the ripper offers an all-in-one Toolbox for adjusting the output videos from Blu-ray. It includes various tools, such as Media Metadata Editor, Video Compressor, Video Enhancer, etc.
Conclusion
In sum, ripping Blu-ray to digital format is a great solution to preserve the collection. Then, the ripped files can be more accessible on your computer, phone, and more.
This article shows the 5 best Blu-ray rippers for you. Thus, you can pick the one you like best to rip Blu-ray for playback smoothly. If you have other questions about Blu-ray rippers, leave your comments now.