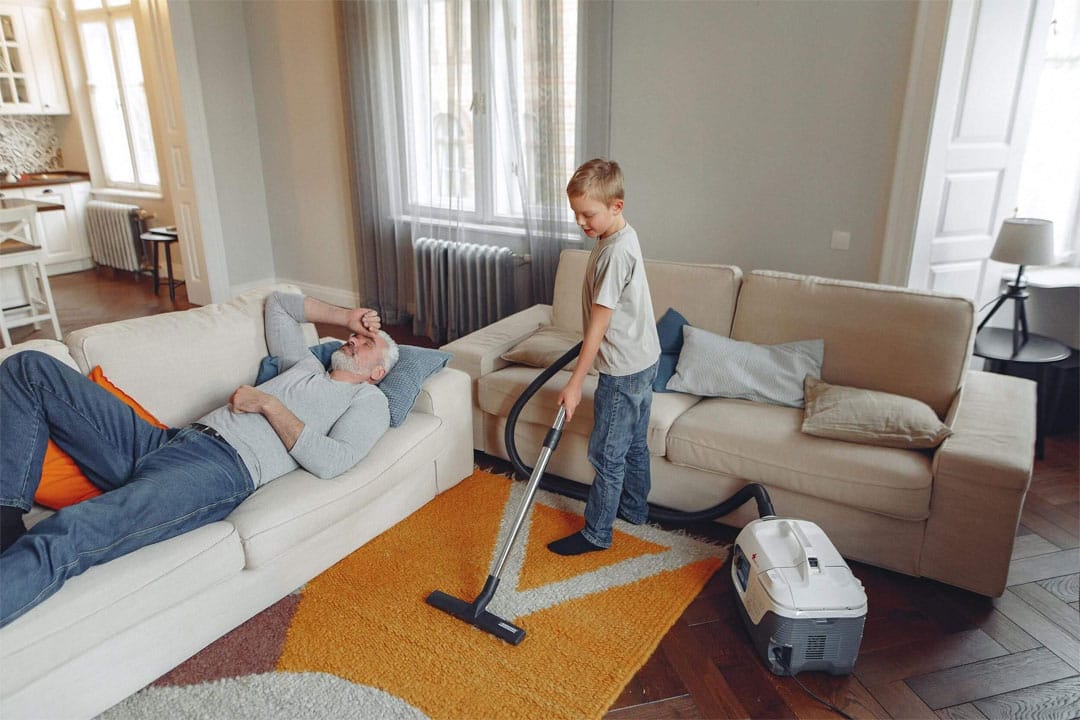 Rugs, whether they're basic floor coverings or designer pieces from the likes of Tamarian or Tufenkian, are a great way to accentuate a space. They can pull the colors in the room together to create a defined atmosphere. But apart from style, rugs are also used to reduce noise, add warmth, and provide comfort underfoot.
Rugs can be pretty complicated to keep clean and if you've spent good money on one, you're probably wondering if you should hire a professional to do the job or attempt to clean it on your own.
In this article, we'll outline the pros and cons for each method.
Should You Hire a Professional to Clean Your Rugs?
The answer to this question is always determined by four factors: time, labor, money, and the rug's price.
If you opt to clean the rug yourself, you're going to have to set aside a few hours of your weekend to accomplish the job. Rugs are heavy and it can be a hassle to remove it from the house to whack the dirt off. And that's not even counting the hours you'll need to educate yourself about the various cleaning products and processes needed for your specific material.
With that being said, cleaning your rugs by yourself will save you money. What's more, you'll gain knowledge and experience on how to properly clean the rug, which will be essential in prolonging its lifespan.
Meanwhile, electing to hire a professional does come with its own perks. Chief among them is the type of service you'll receive for your rugs.
A rug cleaning company has extensive knowledge about the various solutions that are needed by a specific material. They'll know the types of solutions that can be used to treat certain stains and can remove them without damaging the rug.
Moreover, a professional cleaning company has access to machines and equipment to properly get the job done. If you have reason to believe that your rug has been compromised by COVID-19, a rug cleaning professional can thoroughly treat the rug and its fibers to eradicate the virus.
With regards to the average price that you'd have to pay for professional rug cleaning, HomeAdvisor ballparks this to around $200 for your typical 4×8 and 6×10 foot rug. For a more specific figure, rug cleaning prices are around $1.25 to $8 per square foot, depending on the cleaning method, rug material, and additional treatment done by the company.
Important Reminders When Cleaning Your Rugs by Yourself
When cleaning rugs by yourself, the first thing you'll need to do is to be familiar with which type you own. This is important since different types require different methods of cleaning. Next, you'd want to know the basic processes that are observed when cleaning both natural and synthetic fibers.
1. Prepare your cleaning tools
Vacuums are one of the primary tools you'll need to suck out the accumulated dirt on your rugs. It's also a great way to keep the rugs clean by vacuuming frequently, with the recommendation falling between two to four times per month.
Other tools include a broom or a tennis racket, a gentle detergent solution, a couple of clean sponges, tap water, and a hairdryer. For the detergent solution, mix 1/4 teaspoon of a light dishwashing detergent like Joy with one cup of tap water.
2. Manually remove embedded dirt
Next, you'd want your broom or tennis racket to loosen any embedded dirt on your rugs. Simply hang the rug on a clothesline or porch railing and you can start whacking away. Don't overdo it, however, or you'll risk damaging the rug.
3. Be thorough when rinsing
Following that, prepare your detergent solution. Before applying it on the entire rug, you'd want to test it out on an inconspicuous side of the rug to see if the solution will create any discoloration. Simply dab the solution on a clean towel then let it dry on the rug's surface before proceeding.
If no discoloration occurs, start dabbing the area in a grid-like pattern using a clean sponge. Always remember to regularly rinse the sponge to ensure that dirt isn't applied back on the rug.
After removing the dirt with the sponge and applying a gentle cleaning solution, you'd want to rinse the rug. Be particularly thorough during this process as any solution left on the rug may damage the fibers over time.
4. Completely dry the rug
The last part is drying the rug using a clean absorbent towel. If you want to accelerate the drying process, hang it on the clothesline. Remember to use a clothespin so that the entire rug is exposed to the air. Then, use a hairdryer, keeping it a few inches off the pile while moving it back and forth across the rug to avoid damaging the material.
5. Avoid scrubbing vigorously
If you're trying to remove stains, avoid scrubbing vigorously as this can damage the rug's pile. It will also spread the stain across the material and complicate things further. Instead, you'd want to blot out the area with a tissue or white cloth until it's dry.
6. Removing Different Types of Stains
As for stain removal, you'd want to use different solutions in tandem with each other to achieve maximum results. That means using more than the recommended detergent solution above. You would need a different mixture of solvent, vinegar, and ammonia solution for different stains.
What's more, you're going to need to vary the solution's mixture based on the type of rug you have. For instance, if you're making a vinegar solution for synthetic fibers, you'll need one cup of white vinegar mixed with two cups of water. Meanwhile, natural fibers will need a vinegar solution of 1/4 cup of white vinegar and 1/4 cup of water.
For more thorough information about this process, check out Real Simple's extensive coverage about the different solutions needed for different stains. It covers a lot of common stains including food, drink, oil, grease, mud, pet accidents, and more.
How to Disinfect Your Rug Against COVID-19
With regards to COVID-19, you can disinfect your rug by applying solutions that have been approved by the Environmental Protection Agency (EPA). The list also includes disinfection directions depending on the product you've chosen, as well as the contact time duration needed to get rid of the virus completely. Also, use the warmest appropriate temperature when cleaning your rugs as recommended by the Centers for Disease Control and Prevention (CDC).
You're also encouraged to check out this infographic to familiarize yourself with the best practices when using the recommended disinfectants. Being informed during these trying times is one of the most effective steps to protect our homes and businesses from the ongoing pandemic.