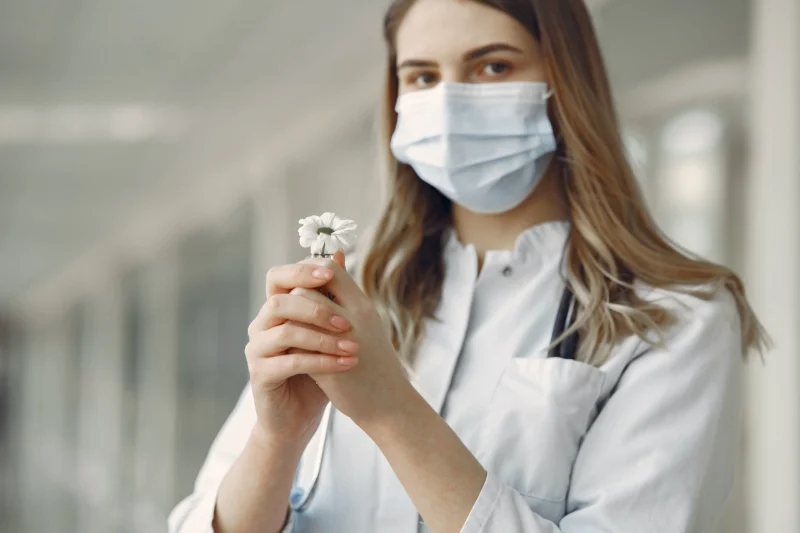 According to WHO's timeline, the first recorded case of coronavirus was in Wuhan on December 31. We're approaching six months since the first case was registered and will soon be three months since WHO characterized the event as the pandemic. So far we've seen Italy and Spain suffer greatly and America taking the lead in the number of infected. We've come to realize how vital essential workers are.
The US healthcare, although considered one of the best, proved to be questionable.
Today we know that the vaccine can be the only way to stop the virus from spreading and hitting humanity with a second wave. Countries around the globe are working on developing one, but it takes time to do so. In the meantime, understanding's becoming desperate.
America's Death Toll Is Over 100,000
Coronavirus has exposed many issues in the US. About 40 million US citizens lost their jobs due to the pandemic. That also means that they lost their health insurance. The novel coronavirus seems to kill more Latino/Hispanic and black residents in the US. Trump's administration claims that's the case because of the comorbidities, but it's evident that segregation returned to life during these difficult times.
Trump also maintains that he'll end the World Health Organization's financial support, as he believes WHO didn't react adequately to the threat. He claims that its response was China-centric. Instead, Trump plans to redirect the funds to other deserving public health needs.
Latin America in Trouble
While Asia and Europe see the decline in the number of infected, Latin America is slowly becoming the new epicenter. The total number of active cases surpassed two million in total, with more than 140,000 deaths, counting all South America states. Brazil has become the world's second-biggest hotspot with more than 360,000 cases and 22,000 deaths. All foreign nationals who have visited Brazil now can't enter the US. Brazil's president, Bolsonaro, has demanded that restrictions are lifted, claiming that more people will die of starvation than the virus.
Mexico's President Andrés Manuel López Obrador says he will continue his work-related travel around the country. While the residents of Ecuador are protesting, Chile records 5,000 new cases daily. Bolivia has been suddenly struck by the virus, which collapsed its healthcare system. Peruvian President Martin Vizcarra has extended the state of national emergency until the end of June, yet the country still sees the increasing number of new cases. Those who violate the curfew in El Salvador are sent to "quarantine centers."
How to Take Care of Mental Health During A Pandemic?
These Countries Reopen
Many say that the virus might never completely disappear. Even though WHO warned about the COVID-19 comeback, some countries decided to reopen. Switzerland opted for a phased reopening that involved restaurants, shops, libraries, museums, and some schools.
Italy, Lebanon, and Croatia report new cases after easing the restrictions. Spain requires that people arriving from abroad go into two-week quarantine. India resumed some train services. China plans to test 11 million people in Wuhan, while bakeries, laundromats, and hair salons are open in Singapore. New Zealand entered the second phase with the reopening of restaurants and movie theatres.
Is Reopening Too Soon an Invitation to the Second Wave?
Countries that hurried up and resumed their non-essential services are now facing the second wave of COVID-19 cases. Japan's island of Hokkaido is one such example. Since it had no new cases in March, and the economy was suffering, government officials decided to lift the restrictions, even open the schools and allow some public gatherings. Unfortunately, three weeks later, they had 18 cases again. By the time Hokkaido enforced new restrictions on April 14, the number of new cases had jumped by 80%. 
South Korea is another country that reopened too soon with relaxed social distancing rules in clubs, museums, and temples. Unfortunately, one man who tested positive later had visited a few clubs and came in contact with around 1,500 people. This event led to 13 new cases so far.
Technology Empowers and Helps Humanity
While in lockdown, people have turned to technology to keep their sanity and run their businesses. The pandemic exposed the internet's real power while the newest technology, such as 3D printing and IoT, proved crucial for many industries. Here are the technological trends that helped humanity during the pandemic:
Online shopping and delivery robots
Digital and contactless payments
VPNs and voice over internet protocols (VoIP)
Cloud technology
Virtual meetings
Telehealth, telemedicine, and telecare
3D printing
Robotics
Drones
IoT, artificial intelligence, and machine learning
Latest Developments in Vaccine Research
The first human trial for the COVID-19 vaccine is done in China. Judging by the results, the vaccine is effective, and there's a reason to keep our hopes up. The vaccine is called the adenovirus type-5 vectored COVID-19 (Ad5-nCoV) vaccine. The trial was not randomized and was open-labeled, meaning that both researchers and participants knew what was administered to them. Participants tolerated the vaccine well, and only some experienced adverse, but not too severe effects. The trial reports show that a single dose of the Ad5-nCoV vaccine produces virus-specific antibodies in 14 days. The vaccine will be further investigated.
UK trials for a vaccine called ChAdOx1 nCoV-19 will enter phase two, meaning that different demographics will be tested. Different age groups will be added to the research, including children. During laboratory testing, scientists realized that antibodies from a SARS survivor could neutralize both SARS-CoV and COVID-19. DNA vaccine trials on monkeys also give hope.
Conclusion
We are fighting against one of the worst pandemics in recent history. It affects our healthcare, economy, and lives, and it keeps on rapidly spreading from one country to another. Luckily, today we have the technology that enables us to fight the disease and work on solutions faster than ever before while keeping people safe.
Even though many countries hurried up and reopened, exposing their residents to the second wave, the vaccine predictions are positive. Our hopes must remain high, but we still have to be vigilant and understand that practicing safety measures while waiting is currently the best solution to stop the virus from spreading.