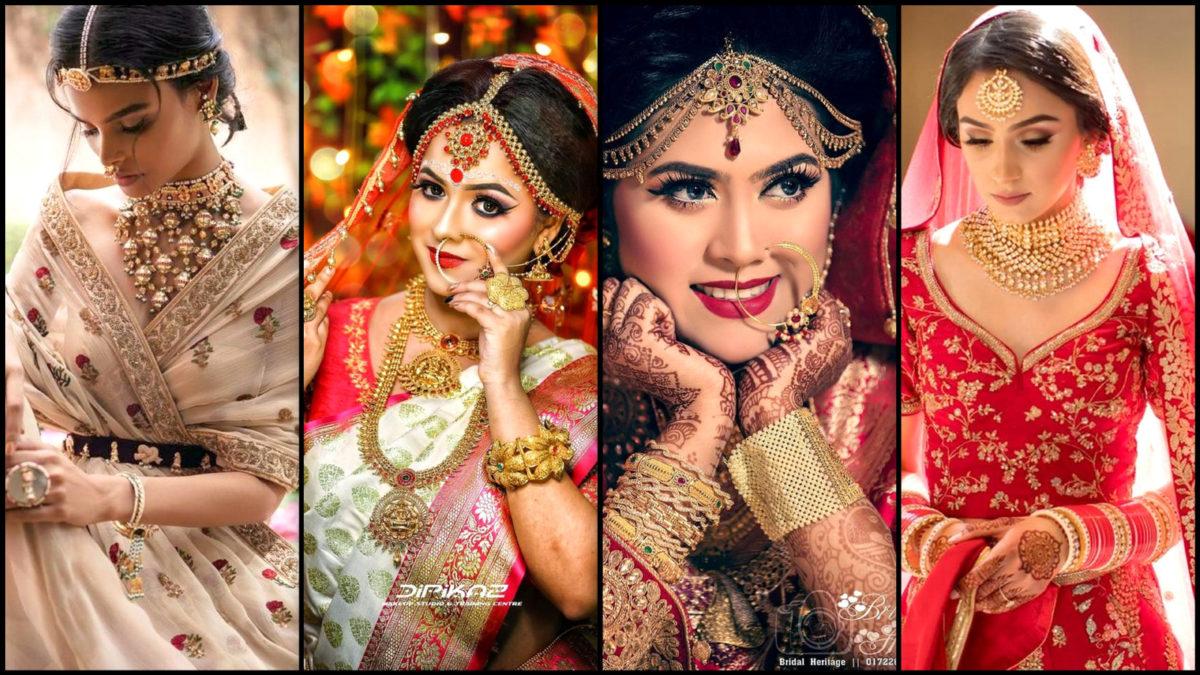 Hey Gorgeous! Are you planning to get hitched? Having a summer wedding? Looking for inspiration that would make heads to turn towards you. We know the wedding is a truly magical moment for a bride where a girl finally takes the vows for eternity with her prince charming to embark on her journey towards a happily ever after. It is one of the most special days in a girls life that she waits for eagerly, and so deserves all the attention and pampering.
Weddings are all about the endless shopping spree, the umpteen visits to the parlor, emotional outbursts and a lot more. Embracing the traditions of Indian weddings is an occasion wherein the families unite to have a gala time. A bride is the epitome of beauty and grace, and the first thought that strikes her mind when she is about to be married is her bridal ensemble. The most crucial elements of a bride's ensemble are her wedding outfit, followed by her makeup.
A bride is the center of attraction at a wedding, and her bridal wear needs to be one that makes her feel comfortable, look confident, and enhances her beauty. Irrespective of whether your getting married in Delhi, Mumbai, or Pune having the perfect wedding dress is what makes you feel like a queen. So no matter whether you are looking for bridal wear in Kolkata, Delhi, or Pune, your dress needs to be one that helps you to flaunt your style.
10 Unique Bridal Wear Trends Of 2019
Are you planning to have a summer wedding? You might then have booked the perfect resort, but what about the ideal attire. Are you done with traditional wedding dresses? Looking for uniqueness? Come summer and light colors become the most preferred choice. Here we have galore for you a list of the trending bridal summer wear that you cannot afford to miss. Check em'out.
Soothing Pastels
From engagement to reception, the variegated shades of pastel-hued lehengas, sarees, and gown are what you need this summer. There is something about the subtle hues of pastel that makes it a hyping trend for 2019. Be it Anushka or Priyanka celebrity brides have warmly embraced the trend. The soothing shades of the color are known to add a dash of romance to the weddings. Be it peach, powder blue, ivory or petal pink an outfit in either shade softens your look making you look like a swoon-worthy bride.
Belted Lehengas
To accentuate your figure line and to achieve a super sexy look belt up your lehenga. Be it an embellished modern lehenga or a traditional one a belt is what gives structure to the silhouette. Belted lehenga skirts add a plummeting charm making the bride appear chic. A gorgeous belt cinching around the bride's waist makes her look visually appealing.
Glittering Sequins
Want to steal the limelight? Try embedding glittering sequins and bugle beads to level up the glamour quotient of your wedding outfit. Shimmery sequin worked lehengas and sarees are entirely on demand these days. Costumes with heavy sequin works have become the trend of the year.
Contrasting Blouse
The days of monochromatic colors have bypassed. The modern trend of the year is about wearing a contrasting choli or blouse with your wedding lehenga or saree. Contrasting cholis in the color of your choice are on the runaway. Contrast colors like leaf green, peacock blue, maroon, among others are quite popular these days.
Furry Affair
Planning for hosting a fancy destination wedding? Then why not make a statement at your wedding with a cozy furry crop jacket, choli sleeves or perhaps a bolero. Adding fur and feathers to your designer bridal wear is a chic and smart way to style up your glamour quotient. If you want to enhance your overall style, then you can opt for feather embellished lehenga and complement it with a fur sleeves jacket. The sheer elegance and charm of a fur and feather outfit are sure enough to bewilder your guests.
Subtle Grey
If your planning to attempt a daisy fresh, blossoming yet mysterious look, then opt for a contemporary grey lehenga. Bollywood actress Sagarika Ghatke who tied the knot with former Indian spinner Zahir Khan nailed the look as she donned a stunning offbeat grey metallic hued lehenga at her reception. One can never go wrong with a grey lehenga. The pleasant hue and luxurious plush of a grey lehenga bring about a coveted look, thus making it a hyping trend.
Flower Power
Summer and flowers are the combinations that never goes out of fashion. The timeless beauty and the charm of flowers never seem to fade away. Flowers are always a girl's second choice, the first one for no doubt is diamonds. Ditching away the traditional heavy bridal outfit a floral lehenga, saree or gown is like a fresh breeze for the brides. The floral outfits bring out a classic and elegant look, which makes them the perfect summer wedding outfit.
Tales Of Love
2019 is all about love story bridal lehengas. From the important dates, love stories, dating places to etching the lovers name the trend is all about embroidering the tales of love in the outfit of the bride. Priyanka Chopra nailed the look as she had her love story embroidered in her cascading white wedding gown. The heartwarming tales etched on the bride's ensembles adds a touch of personalization and a touch of romance to the wedding. The specially curated dress would ensure that you steal the limelight and is sure to make heads turn towards you.
Bridal Lehenga Trails
Priyanka Chopra's wedding veils train added oodles of charm to her look making to drool over it. Her wedding gown trail gave raise to lehenga trails. From embroidered trails to simple and sophisticated ones, the lehenga trails come in multiple hues and in different looks. The trail has become a leading trend of the year. Choose a trail design that complements your wedding dress.
So which trend are you following? Tell us in the comments below.