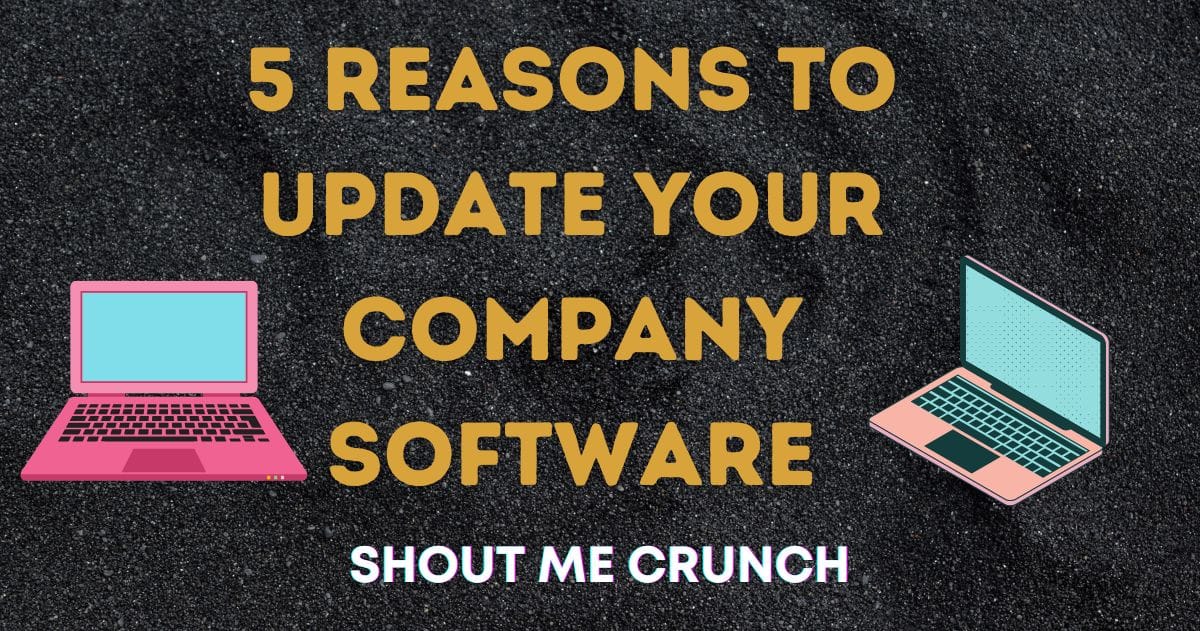 Updating your company software will only benefit your business. New software versions are better than the previous ones. You should update your software.
Technology is constantly changing and improving. The modern workplace requires modern tools. These tools can be either software or hardware. They all serve the same purpose of improving the efficiency and effectiveness of work.
Software solutions are an integral part of the workday. They are used for communication, administration, sales, and other functions. The release of new versions of software products means that they are getting better and more efficient. Here are five reasons to update your company software.
1. Security
Outdated software is more vulnerable to security threats and exploits. A company can protect itself and its data from cyber-attacks using updated software. Data loss is a challenge in the modern age. More than ever before, it is paramount to keep data secure and protected. Hackers are constantly trying to gain access to computer networks and files. There are three ways in which these data breaches can affect a business. First, companies that don't protect their data face the possibility of reputation damage, compromised finances, and other consequences that could severely harm their operations.
Guide to Avoid Hackers and Bugs on Your Computer
The best way to protect yourself against these attacks is by updating your software as soon as possible. New software versions are constantly found to have better security measures and are less vulnerable to hackers.
2. Ensure compatibility
The workplace requires several software pieces. These include messaging, document management, web browsers, and other tools that provide information for employees. In addition, the software must be compatible with providing quick access to all required information from one device.
Updating software can also ensure compatibility with the company's other systems and technologies. This can prevent issues and ensure smooth operation.
Compatibility issues could compromise your entire operation. It is only possible to have the right products if they are compatible. Keep your operating systems updated. This ensures that your devices can process the latest software version and provide accurate information to the employees.
3. Improved Connectivity
Communication among employees, customers, partners, and suppliers is essential if a business wants to get ahead of the curve. The modern workplace demands that different software solutions are compatible with each other to provide quick access and accurate information at any time. The ability to work remotely at any time is now an essential resource for companies. Employees rely on the Internet for most of their communication and access.
Updates ensure that your devices are fully connected and can communicate accurately. For example, using the latest software lets your devices use the latest wireless technology. In addition, CMMS software can help optimize your workflow by coordinating the activities of your employees to avoid overlap and unnecessary delays. A CMMS demo online will help you choose the best program for your needs.
4. Get New Features
The best way to attract new and young employees is to give them useful new tools. New companies emerge daily, offering new tools and features to make your work easier. Use the latest tools and features to stay ahead of the curve. More often than not, these tools will have a better working environment, faster response time, and more accessibility than older versions.
Newer software versions often come with new features and functionality that can benefit the company. This can include improved tools and functionality and support for new technologies.
Modern tools provide better working conditions by offering new functionalities that improve performance. These functionalities can be anything from increased security to working better with some devices or other software and hardware. As soon as companies start using new software and hardware versions, they will notice improvements in their productivity.
5. Stay Organized
The workplace requires you to use communication, documentation, and administration tools. These tools are necessary to function correctly. Therefore, the organization is key to improving a business's workflow and general efficiency.
Companies can better use their existing software by streamlining procedures and processes. This way, employees can save time and gain consistent access to their work. Updated software allows you to personalize your workflow according to your needs. You can organize your files, messages, and tasks in your preferred way to get the most out of it. These features help your business run more efficiently.
6. Performance:
Newer software is often designed to be more efficient and faster than older versions. This can result in improved performance and productivity for the company.
7. Support:
Companies that use outdated software may no longer receive support from the software manufacturer. This can make it difficult to troubleshoot issues or obtain assistance when needed. However, a company can continue to receive support from the manufacturer by using updated software.
How can you convince your boss to upgrade company software?
There are several ways you can convince your boss to upgrade company software:
Identify the benefits:
Make a list of the benefits the new software would bring to the company, such as increased efficiency, improved security, better collaboration, and enhanced customer experience. Present this list to your boss and explain how the new software would help the company achieve its goals.
Highlight the drawbacks of the current software:
Show your boss how it hinders the company's progress and could hold it back.
Show the ROI:
Calculate the new software's return on investment (ROI) and present it to your boss. Please explain how the new software would pay for itself quickly through increased productivity and efficiency.
Offer a trial period:
If your boss is hesitant to commit to new software, suggest a trial period where the company can test the software and see how it performs before making a final decision.
Find a champion:
If you're having difficulty convincing your boss, try to find someone in a leadership role who supports the idea and can help advocate for the upgrade.
It's essential to approach the conversation with a clear and logical argument and to be prepared to answer any questions or concerns your boss may have.
Conclusion:
With so many benefits and features, updating your business's software is essential as soon as possible. The best strategy is tracking the industry developments and keeping updated on emerging trends in the electronic markets. This will ensure that your company can keep up with all the changes happening in the industry. It will also enable you to access new applications and tools that benefit employees and customers.