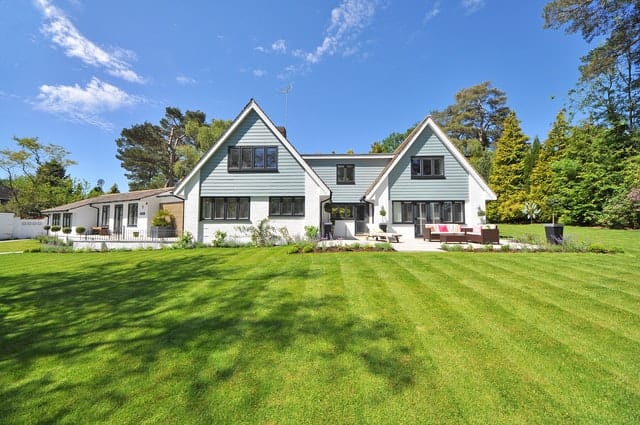 The importance of curbside appeal cannot be stressed enough when it comes to your home's appearance. The beauty of nature and property can present an unforgettable image to passersby and neighbors. Here are 6 exterior home ideas that will improve the image and give balance to your home.
Landscape & Outdoor Lighting
Outdoor lighting provides safety along dark pathways. Landscape lighting goes one step further by enhancing the beauty of your home. Upward lights can fan warm light to trees and bushes to highlight their beauty. Solar pathway lights will outline a path that leads to the front door. Most importantly, the asymmetrical balance of different lighting will accent your property's elegance after dark.
Aluminum Fencing
Fencing along the perimeter of a property gives a stately-looking appearance. The right style and height make a deliberate line that sets your home apart from neighboring homes. Aluminum fences are today's answer to keeping your property secure for the long term. With very little maintenance and a natural assortment of colors and styles, aluminum or vinyl fencing will improve your home's value and bring an elegant outline.
Expand Pathways with Hardscape
Add depth and intrigue to your pathways by replacing a straight and boring concrete walk. Stone or brick hardscape gives a pure and natural look to a yard. Warmth and beauty are further seen when there is curvature to paths. While this may not be possible for leading to a front entrance, paths that lead around the house and into gardens are. You can incorporate a straight concrete sidewalk with similar material to the paths along the edges. Pavers give you tons of ideas for creating an enchanting walkway, porch, or patio area.
Add Plants and Bushes
Plants and bushes that are planted close to home will take away the bare look that is often seen between the ground and a building. Blending your house with nature is a refreshing way to bring color, depth, and beauty to the exterior. Puffs of seasonal color will also fill in yards that are empty with long stretches of grass. For instance, oleander bushes can be trained to retain a certain size or shape. Their mild colors of white, pale yellow, peach, pink, or salmon make a delightful blend for almost any property. Use large container pots beside your front door. Fill with grasses or seasonal fresh flowers to add charm.
Medicinal Plants to Grow on Balcony
Use Your Front Door as a Focal Point
The days of matching front doors to exterior colors are over. The more pop that your exterior entrance has, the better. This update announces your taste in design and personality. Blast it in a bright red tone or use a calming color like a subtle light gray. Consider changing the hardware to shiny gold or choosing stylish accessories to raise awareness. This update is a personal invitation to the inside of your home and should be as pleasing to the company as it is to your family.
Importance of Lawn Care
Maintaining a good lawn may seem like a no-brainer to most homeowners, but there are many signs that your grass is unhealthy. Here are a few of the signs that you need to take action to keep your property looking pristine.
Mushrooms growing in the yard
Patches of brown grass
Weed infestation
Grass turning yellow
How to Beautify Your Flower Garden? (shoutmecrunch.com)
It is easy to read up on how to eliminate damages to your lawn and take the proper steps to repair it. Too much water, dull mower blades, invading pests, bad timing, and uneven fertilizer are all problems in having a perfect-looking lawn. However, if your lawn is beginning to interrupt your summer and family time, hiring a professional lawn care service could be to your benefit. They have the knowledge and tools to bring your lawn up to par and keep it looking magnificent.
6 Tips to Keep Your Plumbing in Perfect Working Condition (shoutmecrunch.com)
Your home should make you proud in its appearance and security. These exterior ideas will not only bring satisfaction but will update your property with the latest techniques available. A home's exterior can make a major difference in the value of your property. Raise the intrigue of passersby by having a beautiful and pleasing home for everyone to admire.