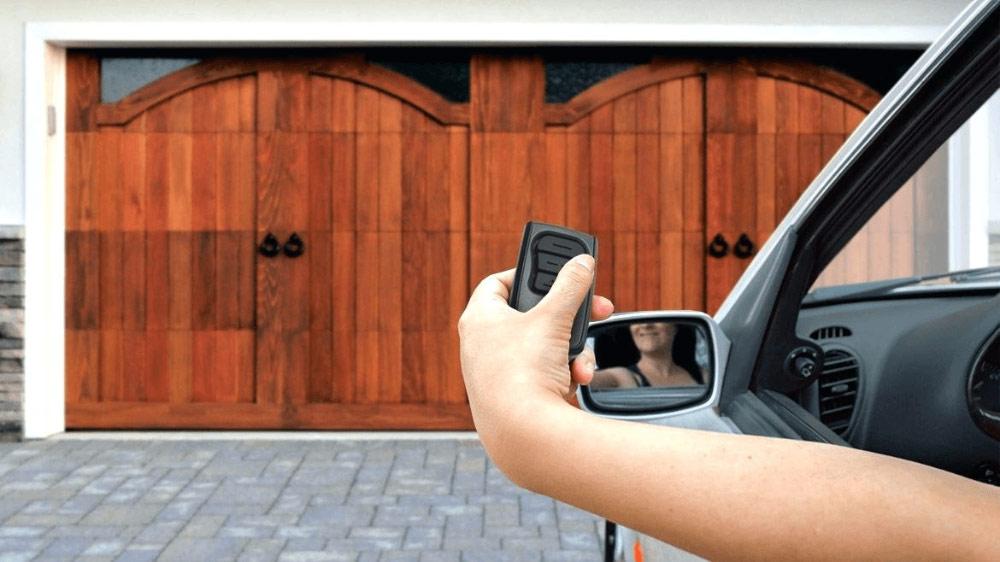 Garage door openers have undergone some major transformation. They are no longer, boring lifting machines. Here are some garage door openers that will blow your mind.
Garage door openers are not a modern invention. They date back to the 1920s and have gained a lot of popularity ever since. In simple words, these are machines that open and close the garage with the help of a counterbalance spring. But the definition has changed since companies have come up with garage door openers with smart technology that look and work like a sophisticated multitasking machine. Looking for one that exactly suits your needs?
Here are Five Garage Door Openers Go High Technologies!
Chamberlain C205
You don't always have to pay a buck load of cash to secure your garage. If you are looking for a budget door openers, the Chamberlain C205 Chain Drive Opener is perfect. This small yet mighty door opener does the job and doesn't burn a hole in your pocket. It is excellent with the basics and comes with decent lifting power. Enough to lift a basic 7-foot garage door.
It also comes equipped with the Posilock antitheft system which takes security to the next level by blocking any intrusion, once your door is shut. Unlike many other chain-driven garage door openers, this one works efficiently and does not create a lot of noise. It works smoothly with MyQ garage door hub, another great product from the brand. For under 150 dollars, this is your best 'budget buy'.
Chamberlain B1381
Are you looking for lifting power, incredible illumination, and smart door capabilities at the same time? This intelligent machine does it all! It is a high-end door opener that comes with superior features and multitasking capabilities. Its 1 and ¼ horsepower gives an extra lift to the belt drive system. With a 100 LED light board, its overhead light provides better illumination, lighting up your entire garage. If you are someone who likes to invest in 'Garage Makeover Ideas,' this is simply perfect. Moreover, the lights come with a motion sensor that enables features such as automatic shut-off, with ease. So just in case, you forgot to shut the garage lights off, don't worry about it.
It also comes with an onboard battery backup. So in the event of a power failure, you don't have to be stuck. State of the art LED display shows you the current time and error codes, in case you experience some issues. This machine might cost you a little bit more, but the incredible user experience makes this worth it.
If you want to know more about garage doors and garage door openers, I think it might be a helpful addition for you to read this guide.
LiftMaster 8500 Elite Series Jackshaft Operator
For a space-friendly option, LiftMaster 8500 Elite Series Jackshaft Operator is your guy. Probably the best wall mounted door openers, this one saves overhead space and does its job very smoothly. Often quoted the "quietest and most secure garage door opener" of all time by many happy customers, this is one of the best jackshaft door openers available on the market. If you are looking for some additional ceiling space, then this could be your best option. It comes with an automatic deadbolt. This other feature makes it harder for intruders to override the security system manually.
Want a door opener that saves space, works efficiently, ensures extra safety, works quietly and looks polished? The LiftMaster 8500 is a great option to go for!
Ryobi GD201
There are many people who like to use their garage as a workshop, a chill-zone, and even a man cave. Ryobi GD201 door openers are perfect for them. Why? To start with, a lifting power of about 2 horsepower & a crazy number of cool add-ons make it one of the best selling door openers present on the market. It has a decent battery backup and can also run on Ryobi's One+ batteries ( you can buy these separately).
And…! With the new technological update, Ryobi GD201 Door Openers is now WiFi compatible too! All you need to do is install a relay hub and the Ryobi application.
Chamberlain WD832KEV
An all-rounder and one of its kind, Chamberlain WD832KEV Whisper Door Openers, brings together everything under one roof. It combines reliability and performance to give you the best user experience. These openers require the least maintenance and can be easily installed. It has a lifting power of ½ horsepower and is capable of lifting a heavy garage door with ease and mobility.
This model comes with two outstanding features. The Posi-lock antitheft mechanism, one of the best features of this door opener, safeguards your garage from any forced entry. It also has an inbuilt Motor Vibration Isolation System that takes care of any vibration and noise.
Your garage is not just home to your vehicles; it a place of innovation, inspiration, and creativity. So go the extra mile, invest in a good garage door openers, and sleep like a baby.
Author Bio
Ross Geller is a working Designer and passionate writer. He enjoys writing about the latest home decor and lifestyle trends all around the globe. He has been working with Elite Garage which provides Garage Door Repair Services the potential some time now. Through his writing, he hopes to influence as many people as possible to help build a beautiful home and space.