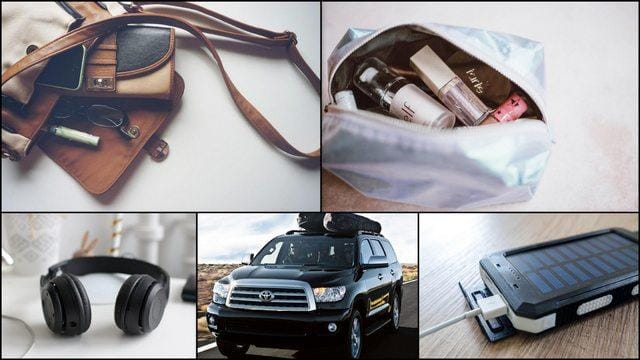 Ready for a trip? Get your playlist ready and mark the destination on your map. But first, find out the must-have items for your carry-on bag.
We all love traveling. Whether it's taking a weekend road trip to the hills or spending the summer in an exotic country, going on a trip to take a break from your mundane life is exciting. But what is not appealing is traveling without preparation. You need to not only carefully pack your luggage without making it too heavy but also have a carry-on bag with all the essentials. The carry-on bag should be sturdy, comfortable, and spacious enough to carry your essential items. If you're going on a road trip with friends, keep your essentials on car roof racks to avoid any hassle and save on space inside the car.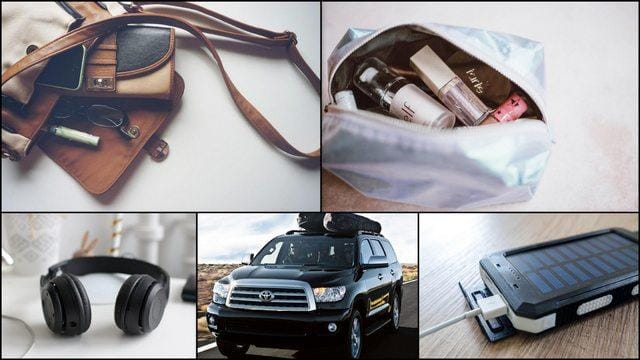 Here are 7 Must-have Carry-on Travel Essentials that everyone should pack!
Travel Pillow
Sleeping in airplanes and cars is uncomfortable. A travel pillow may seem like an unnecessary expense. However, the comfort it gives while traveling makes it worth purchasing. Their curved shape provides support to your head and neck and helps you get a restful sleep. They are usually made of soft material and feel gentle on your face. In case the cloth feels harsh, cover it with a scarf or t-shirt to make it smoother. Different types of travel pillows are available such as inflatable, U-shape, and pre-stuffed. Try different positions in your travel pillow to find where you are most comfortable. Buy one that fits comfortably in your carry-on bag. You can recline your seat slightly in flights to get into a more favorable position. Put on an eye mask if the light bothers you. A travel pillow is a must-have for those who travel frequently.
Portable Charger
Since we are all stuck to our phone screens a majority of the time, this is pretty obvious. Do not take the risk of your phone battery dying in the middle of nowhere. Even though most planes nowadays and many other public places have USB ports, prepare for emergencies and carry portable chargers with you. Don't leave all of them in your luggage. Your carry-on bag must have at least a USB cable and a power bank. Vacations are a time to unplug, but you should still have a fully charged phone. You wouldn't want to miss out on capturing those precious moments, right? It's also best to be able to call in case of any emergencies.
Wipes
Wipes are handy while traveling. Make your hygiene a priority whenever you go outside of your house. The last thing you need is to come back from visiting and finding yourself ill. Dirty airplanes, unclean restrooms, food spills there are many reasons to keep wipes handy. Wipe your hands before and after eating. Unfamiliar environments can make you vulnerable to germs, so it is best to be careful. You can have your pick from a variety of wipes, some of which come with perfume, sunblock, and antibacterial properties. Carry a pack of good quality wet wipes or just plain old tissues in your carry-on bag.
Snacks
Snacks are available practically anywhere. Whether on-board a flight or on the side of roads, you can get something to eat. However, you may get stuck in traffic for hours or in a remote area while traveling. Some places have skyrocketed rates for even the most basic snacks. A fruit or two, a couple of protein bars and the gum will do. If you have any specific food intake requirements, be extra mindful of that. Make sure to carry a water bottle as well. Hunger makes us cranky, and no one wants to be grumpy while blissfully traveling!
Headphones
You may wonder why headphones are essential for traveling. They serve many purposes, including listening to music and watching movies on long flights. Drowning out traffic noise or loud people to catch a nap is just as important. A pair of Bluetooth headphones are especially handy if you don't want the hassle of long cords. It is worth investing in good-quality noise-canceling headphones. Buy one that is small enough to fit in your bag. You can also carry earplugs to block noise.
Entertainment
An essential aspect of your traveling journey is to prepare for long hours of boredom. Avoid that by adjusting your entertainment material beforehand. Make a playlist and download movies and shows on your tablet/iPad. Make sure to update your Kindle with your reading list or carry a small paperback. Bring extra batteries and portable chargers. Technology doesn't have to be the only form of entertainment. Bring cards to play with your companions. In case you are traveling with kids, you can bring a coloring book or their favorite stuffed toy.
Toiletries
Make a separate pouch for personal items. Besides your essential toothbrush, toothpaste and floss carry the things that make you comfortable when you are away from home. Public restrooms can be a nightmare, so make sure to have your essentials with you, whether it is makeup, bobby pins, or skincare products. One thing that many people forget to include in travel bags is medications. Instead of relying on any outside source, carry your meds in case of headaches or upset stomachs. If there are any medications that you take regularly, pack a few days worth of them instead of just one. In case your luggage goes missing, you won't have to go without them for several days.
Tips for Smart Packing
Make a list of things to pack a few days before traveling. Review the list one day before to make sure you didn't miss anything.
Pack a couple of extra bags such as totes or zip locks as well as a garbage bag.
Keep liquid items separately. You don't want your perfume bottle spilling all over your clothes no matter how nice it smells.
Roll clothes instead of folding them. They take up less space this way.
Plan your outfits. This way, you will only pack what you know you'll be wearing.
Take multi-purpose clothes. For example, a jacket that can function as a pillow.
Leave a little space in your luggage to bring back souvenirs.
Be selective about footwear. Only take those that can you can wear with multiple outfits.
Don't forget to pack essential accessories such as scarves, belts, gloves, pajamas.
Double-check that you have the critical docomeents in your carry-on before leaving.
Keep in mind that your carry-on bag must suit your personal needs. So if there is anything you need close to you while traveling, keep that. Fragile items, including electronics, are best kept safe in the bag that you carry with you. You can also carry a map like one listed here that would navigate you throughout your journey. Catch up on reading with a book or Kindle on long flights. Other items that may come in handy include a pen and notepad, deodorant, travel pillow, eye mask, hand sanitizer, scarf, and a first-aid kit.