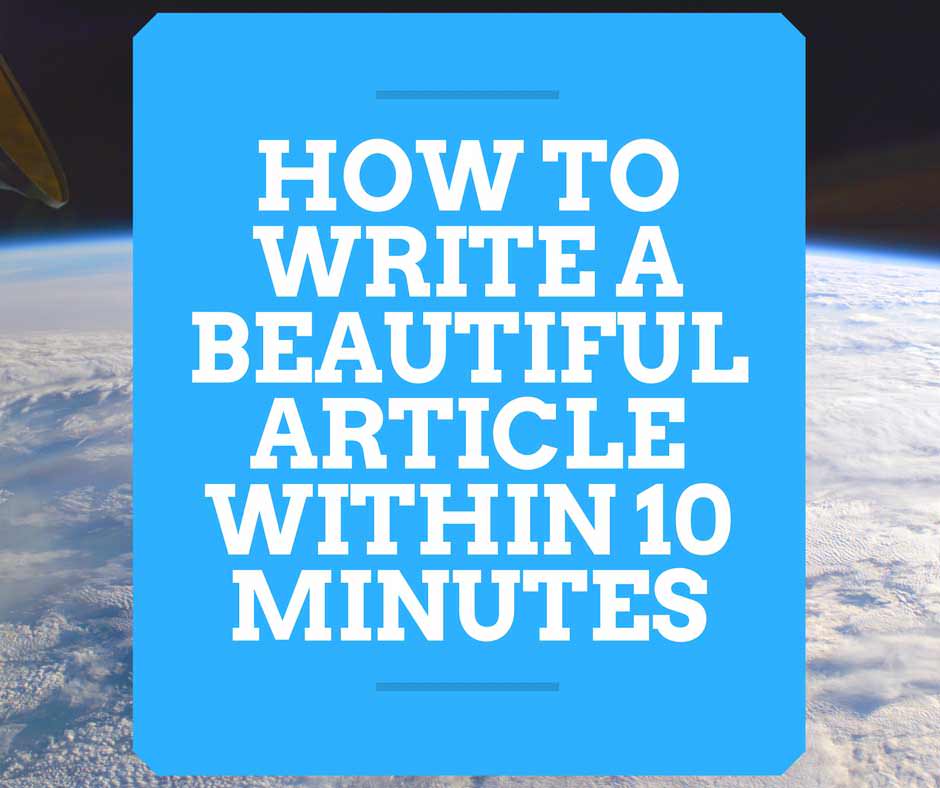 A writer writes for his passion and to present information, ideas, messages or solution of a specific problem.
Frankly speaking, when it comes to writing an article by maintaining time duration, it is really hard to perform the job better within the specific period.
Because it is writing which needs to special care of the writer. It is required time and efforts to present the beauty of the writer mind.
How To Write A Beautiful Article Within 10 Minutes
Writing an article in 10 minutes may be a  challenge. When it comes to the topic of quality and ensuring SEO parameters in your written article, it is really tough to write an article in 10 minutes.
To ensure the best quality and supply blog content, you can write an article in 10 minutes! For article writing in ten minutes, I've assumed that you have the knowledge on the topic on which you are going to write the article.
Basically, an article has three parts such as article introduction, article body, article conclusion etc.
To write an article within the desired time frame, you will develop these three sections. After developing these three elements, You will get your desired article.
Check: Niche Site Article Writer and Guest Posting at Lowest Price
Introduction= 2 Min.
Body= 4 Min.
Conclusion= 2 Min. 
Overall Review= 2 Min.
Introduction
For an introduction, you have 2 minutes to write. For this, just grab the idea and research on the topic and tell your readers what are going to be discussed on the body part. Shows clearly the problem of your readers on the introduction part.
Body
The body is the most important part of a quality article. To write the body part, you have 4 minutes.  In this section of an article, you discuss the detailed solution of a problem. If your written article can solve your reader problem, the article ensures the quality.
On the other hand, you should ensure natural presentation of information on your article. When the introduction has been written down & you are developing the body part, give the complete solution of the reader problem or demand.
Conclusion
For a beautiful conclusion, just write an overall idea basis on the body part such as what has been discussed on the body part and what should be reader actions etc can be focused on the conclusion part. To write the conclusion, you have 2 minutes. By this two minutes, you should write the conclusion which ensures reader encouragement, inspires to be engaged.
SEO Friendly Article Writing
For the development of your blog, your article is the main pillars. Because articles create the main value of a blog. To earn reader's faith, you are required to write with the thought of your reader's demand.
On the other hand, To perform better on search engines search, you should emphasise on SEO friendly article writing too. To emphasis on SEO for your short article,  To write an SEO Friend Article, you should ensure….
Natural Keyword Placement
Proper Usage of Targeted Keyword
Keyword Density
Usage of Heading HTML Tag
Proper Usage of Bold, Italic and Underline
If your blog visitors engaged with your content, Search Engine will also give value to your content. When you write, writes with the thought of your readers and value of search engines. If you can deliver quality article regularly to your blog, Your blog must improve and earn more readers day by day.
So, By the following steps to write an article in 10 minutes, you can make it!
On the other hand, if you practice it regularly, your article writing skills will be improved day by day. You are efficient to present a beautiful article will be developed.
Salauddin Bepari Writes on Bangla Books PDF. He writes various kinds of subjects such as books, magazine, story, tips and motivational articles.