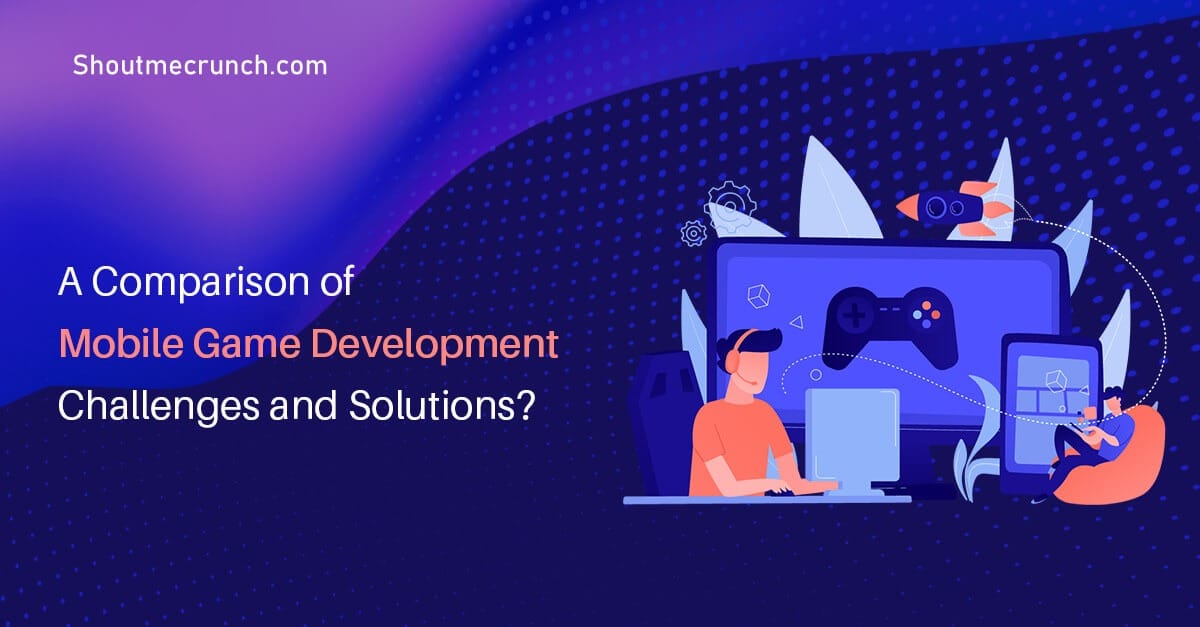 The era is dominated by mobile devices of various types, including foldable devices. This has led to a spike in game app development for mobile devices. For developers, the real work lies in ensuring similar experiences and impeccable solutions for devices, irrespective of their type and form.
As mobile game app developers, you are often asked what is the difference between developing a game app for the mobile versus that for a gaming console. Let's discuss the difference before we take you through the challenges mobile game app development companies face when creating solutions.
Mobile Game Development vs. Game App for Consoles
If you are planning a game app for a mobile device, you will face more challenges concerning the creativity, type of game, and tools used against the consoles or desktops. Here, we will discuss these challenges and the solutions in detail.
Limitations of Power
As, a mobile game developer, you work with limited power compared to gaming consoles. We are talking about 200+ watt GPUs when it comes to gaming consoles. The power and resolution are just too high for the consoles and PCs. You might be disappointed if you try to replicate these games in the mobile app. The mobile GPU has limited power (1 or 2 watts at the most), which cannot handle high-power games.
The Creative Workflow
The graphic power you get with mobile game apps is lower compared to desktop or console counterparts. You will notice that they need more rendering to improve the quality and provide more effects.
Depending on the developer's game development engine, the efforts become more or less extensive. The 4k textures or even the transparency needs to be lower for the mobile devices as you will make the app work on a 4″ and, at the most, 6″ screen.
As a result, when you develop a mobile game app, you need to pay attention to the macro details. Every small thing should be readable, legible, and impactful for the small screen owners. This can become a challenge.
To overcome this challenge, you should choose games that smaller devices and power can quickly and swiftly render. It would help if you used all the efforts to make the items and elements on the gaming app distinct.
The Need for Detail
The landscape for the gaming console can be broad, and you can merge some of the elements in the background. However, when working on a limited space, you don't have the option to merge environments or add too many elements.
You will work with limited elements, and the details are the only thing that can help you plan better for the mobile device. The levels of more information for the objects in the case of mobile is a significant deal. However, you may not need to go through the difficult phase of detailing for the PS or Xbox.
The Multiple Platforms
In the case of gaming apps for mobile devices, you are playing with multiple platforms. This is entirely different from the fact that you will need to develop newer devices or versions for the same type of box in consoles and desktops.
The same game will be played simultaneously across different platforms and devices in the case of mobile game app development. As a result, you are challenged with impeccable experiences and flawless design across channels.
This can become difficult. That's why you need to plan thoroughly before launching your game app. Hiring top mobile app game developers are also essential to help build the solution.
Speed to Market
You will get more in-depth creativity and entertainment with the console. The graphics are high-end, and the speed is extraordinary, which you cannot expect with the mobile app. That's probably why a lot of people prefer gaming consoles.
However, mobile game app development wins hands down when it comes to ease of development and publishing. You can even include in-app advertisements to increase revenue.
Accessibility
Lastly, the accessibility you get with mobile gaming is impossible with desktop or console gaming apps. Despite the limited power and graphics resolution, mobile game app development is popular.
You cannot carry the large consoles or PCs around to play. They are stationary and need to be placed in one place. This could be called one of the biggest challenges of gaming consoles. However, accessibility is one feature that you should take advantage of when using mobile game app development.
Top Challenges Mobile Game App Developers Face
We have seen the differences between developing for console and building a mobile device game app.
Distinct Features or Solutions
There are multiple types of gaming apps available in the market. Your game idea might sound similar to the one that exists. For example, there are several gaming apps like Candy Crush in the market; however, the one thing that sets them apart is their story, features, and end solutions.
Developing a game app for mobile can be difficult; you need to build a solution that has a goal and offers some excitement to the end customers.
Enhancing App Visibility
When you are building a game app for mobile, it is not easily visible to the target market. Not everyone will know of your app immediately. You must involve yourself in marketing the application and building a user base.
If people feel your app is similar to others, it can lead to attrition. That's why studying the market and understanding how it works is essential. Plan your app's monetization and marketing strategy before you begin development.
You should use store features and optimization techniques that can help grab the audience's attention.
Know the Target Market
This is the basic rule for mobile app development. The top mobile game app developers will tell you how knowing the end audience and their preferences can help build a solid and functional mobile app.
It will help you better plan the app's usability, features, and interface. When you know who will use it and what types of apps they use, developing the gaming solution becomes more accessible.
You should use social media, the competition, and other tracking methods to know the audience.
Read also Mobile Game Development Trends of 2021: Future of the Gaming Industry
Conclusion
If you are planning mobile game app development, hire mobile game app developers that are well-versed with the different development engines (Unity and Unreal). They should have a complete understanding of game development processes and should offer capable solutions.
It is important to validate your idea in the target market before approaching the developer or development company for the mobile game app solution.
Author bio:
Jignen Pandya has been working with Expert App Devs an India-based professional mobile app development company. Expert App Devs provide end-to-end mobile and IoT solutions as per the client's business requirements.
What are you looking for?
mobile game development
best mobile game development software
unity mobile game development
mobile game development companies
best language for mobile game development
mobile game development courses
c++ mobile game development
unreal engine mobile game development
is mobile game development profitable
mobile game development cost
mobile game development software
mobile game development app