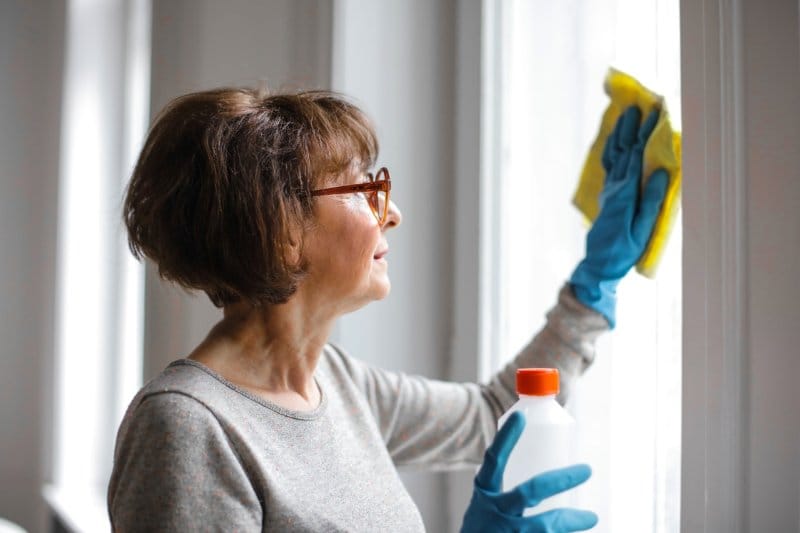 When it comes to taking care of your house, as a busy mom, the trouble isn't so much scrubbing the toilets and de-greasing the oven as it is doing so regularly and continuously having to refill your supply of cleaning means.
The thing is, no matter how thrifty you are, your kids are going to find inventive new ways to make all sorts of messes, so whether you like it or not – you will have to continue cleaning all week 'round, and this means an inevitable increase in costs of housekeeping maintenance.
Now, not all is bleak in the department of cleaning your house, because even though you will probably have to keep up the frequency of your cleaning sessions until your kids get a little bit bigger, you can do something about the mounting costs of cleaning – stop buying the often expensive professional cleaning solutions and opt for their green counterparts.
In this article, we're going to talk about what you can do to make your cleaning routine greener and, thus, more efficient. As you will see, it's all about using the commonly-found kitchen items and pairing them up with some mechanical ones such as rags or brooms.
Here's the deal.
Obtain the Green Cleaning Means
Although the sound of this subtitle may appear a tad worrying as many 'green' things nowadays cost an arm and a leg, this isn't the case with cleaning products.
If you were to go shopping and make a list of all the cleaning-related items you'd need to take care of different surfaces in your house, it could look something like this:
Alcohol – Well-known as one of the most potent natural disinfectants, alcohol is a must-have part of any green cleaning arsenal. What's more, many commercial cleaning solutions already have alcohol in them because it's so good at removing stains and killing germs.
Soap – Commonly found in virtually all households throughout the world, a bar of soap can be an excellent tool to get rid of a wide variety of stains and add a pleasant smell to whatever surface you use it on. To be more precise, it's the liquid soap that will be the easiest to use for cleaning purposes because it will mix easily with water.
Lemon Juice – does wonder for getting rid of grease stains and old stains that got stuck to the surface they're on and won't budge. Thanks to the powerful acidity that occurs naturally in it, lemon juice will break up grease with ease, no matter how tough the stain is. This is why most cleaning means also feature lemon juice to a certain extent, by the way.
Baking Soda – One of the most widely-used green means of cleaning, there's scarcely a stain that cannot be easily tackled with a bit of baking soda (+ perhaps some vinegar)
If you are residing in San Jose and you need some help from a professional house cleaning service with a budget, try to check their offers on San Jose House Cleaning.
Organize a Minimalistic Layout
Although this step would be more of a home decor question than that of cleaning per se, having fewer objects to move about in your room or to lift and place on your bed or somewhere else means you can clean up the general area quicker and using fewer cleaning resources, so to speak.
Getting rid of unnecessary items from your home will not only make the cleaning more manageable but will also give you an opportunity to re-assess the layout of the items in your rooms and perhaps come up with a better one once you've finished cleaning.
If you want to know the Benefits Of A Professional Cleaning Service & Why Every Business Needs One, this Professional Cleaning Service article will guide you to choose the best one available in your budget.
Pair-Up Your Eco-Friendly Solutions with Some Useful 'Mechanism'
Such as brooms, sprinklers, or even some more advanced contraptions such as powerful electrostatic sprayers or vacuum cleaners, for example.
The thing is, while using green solutions such as vinegar or lemon juice does mean shunning the commercial ones, this doesn't mean you shouldn't use some of the modern cleaning machines to make your cleaning tasks easier.
All in all, getting rid of the commercial cleaning means can make a world of difference when it comes to how much money you spend on your house maintenance and how it impacts the environment – to an extent. The bottom line, as long as you can get rid of unnecessary costs related to buying cleaning products, use some machines to your advantage and get rid of as much junk as you can, you can create quite a favorable situation for you when it comes to household maintenance.