If you are someone who has just taken his first steps into the professional online system and has recently started your website, there are some things you need to know beforehand. The simplest even websites require a domain and a hosting service to work. In very simpler words, the domain is the name of the website or the URL of the website.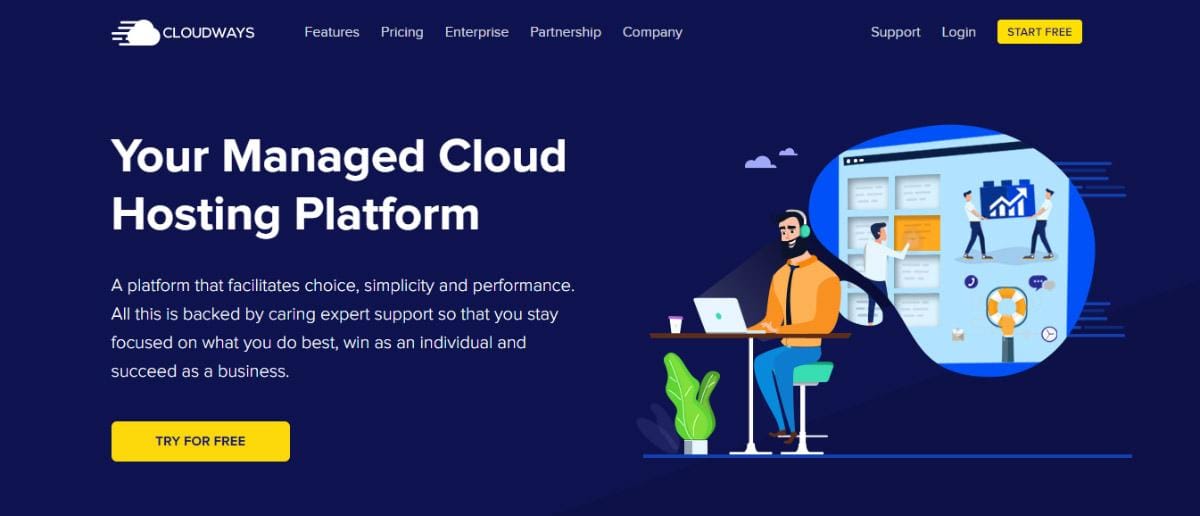 Hosting, on the other side, is the service which is provided by thousands of companies and what hosting does is that it makes your website/ pages visible on the internet. One such service is Cloudways hosting, which is immensely popular these days. In this article, we will wrap up what Cloudways hosting is, what are the Cloudways review 2019, and whether it's worth your money or not?
WHAT IS CLOUDWAYS?
By this time, it's pretty evident that Cloudways is a hosting providing service. Not just a hosting provider, but, it is a cloud-based WordPress hosting service. Cloud hosting is the hosting, which assists you by using the resources of more than one clustered servers. What this means is that your website is going to feed upon virtual resources of a lot of servers in order to provide a hosting service to your webpage.
One of the best features of a cloud hosting is that it operates on a cloud system, which means that it can be accessed anytime from anywhere. All in all, cloud services provided by cloud servers means that it is a properly designed virtual server which has way too many capabilities than a normal physical server.
Coming back Cloudways, it is claimed to complete one's WordPress experience. It also allows you to migrate your website onto their hosting services if you have signed up and registered your website to another hosting plan before. They also provide issues to almost all the common and even some rare problems which WordPress website can/may face. All this is done through a hassle-free and time-saving process of just one click. Sound's nice!
WHAT IS THE DIFFERENCE BETWEEN CLOUD BASED HOSTING AND TRADITIONAL HOSTING?
We have pretty much summed up what cloud-based hosting is above. Something to add on in that is cloud hosting allows you to easily shift your website to another hosting plan if it has encountered some problems. It is fast, improves your uptime, let's you control your pricing and what not? One major feature is that, not only it is fast, but, it provides more security to your website. It also uses SSD drives (Solid-state drives) in order to enhance website performance and make it faster.
Traditional hosting, on the other hand, is almost just the opposite. Traditional hosting cannot be accessed remotely at any time, rather, you always have to access it physically. Shifting your hosting plans from one to the other in a blink of an eye is something Traditional hosting are not much a fan of. Not only this but, when subscribing to traditional hosting, you are really risking your website's security. Since traditional hostings are not very efficient, it will be very easy for hackers to come and attack your website, let alone, the speed of your website is not going to be lighting fast either.
IS CLOUDWAYS CHEAP?
When you come across a service which offers so much to its clients and takes care of their website like it is theirs, then one question coming to our minds is common, "is it affordable?" Just like Cloudways takes care of almost everything related to your website, it also makes sure that you gain all of their features under a budget. They also offer Cloudways promo code which can be applied to lower the prices further and grab the discount on Cloudways hosting.
Cloudways offer multiples of pricing plans from which users can easily pick the best ones which come under their affordability. Furthermore, they also offer a 14-30 day trial period in which users can benefit from all of their features and can decide if Cloudways is the type of hosting they are looking for or not.
WHAT ARE THE PROS AND CONS OF CLOUDWAYS HOSTING SERVICE?
Pros:
One of the biggest advantages of switching to Cloudways is that you get a pretty good trial period, and within that, none of their features are disabled. You get 512MB and 1GB of RAM. Secondly, using Cloudways hosting is extremely easy and user-friendly. You don't need to be a pro in order to work on this service. Another great benefit of using this service is that there is absolutely no limit on how many WordPress sites you can install on one hosting plan. If you are not satisfied with your current hosting provider with WordPress, I will suggest giving a try for 1 month their managed WordPress Hosting.
This really shows that Cloudways put their customers first and their profit second. Site backups are also done on a regular basis, which means your data stays secure even when you forget to back it up. Cloudways offer one site migration for absolutely no cost at all. Another great advantage is that, if you are someone who is not a very big fan of WordPress service, Cloudways offer other content managing systems as well such as, Joomla, Drupal, and Moodle, etc.
Cons:
While there are not many disadvantages we found regarding this service, however, the ones we found are worth taking notice of. When using Cloudways service for your website, you cannot use the CPanel service. Rather, Cloudways provide its own console which enables you to manage all your data on the cloud server. Second and last of this list, Is that while cloud hosting is unique in terms of performance, it is not for everyone. You need to have a certain level of expertise and some good knowledge regarding the web development world in order to avoid any sort of issues with it. That, however, can be fixed within a matter of days by proper research, reading their blogs and taking the help of some senior professionals.
Cloudways is a complete package. Yes, there is a positive side as well as a downside to everything. It is up to you to decide whether this hosting plan is the one you are looking for or not?