This article is about the cost of cockroach extermination. It covers cockroach control, pest control services, exterminators, companies, and organic pest control. Get the best tips for keeping your home free from pests!
One of the most prevalent pests in homes are cockroaches. Apart from being unattractive, they threaten human health by polluting food and dispersing infections. To ensure the effective eradication of a cockroach infestation, it is imperative to use professional pest control services. We'll talk about what it usually costs for cockroach pest treatment in Australia in this post to support your ability to make wise choices regarding the safety of your house. A cockroach infestation can be an unpleasant and unsettling situation to deal with. In many cases, the best way to get rid of cockroaches successfully is to hire a professional pest control service. In this post, an overview of Cockroach Pest ControlPrices is given.
Tips To Determine Cockroach Pest Control Price
The price of cockroach removal depends on several factors. You can more effectively assess the price estimations by being aware of the following elements:
Infestation Level:
The severity of the cockroach infestation greatly influences the cost. Early detection of a minor infestation may result in less treatment and a lower overall price than a severe infestation that has been there for a long time.
Type of Cockroaches:
Different products and treatment strategies may be needed depending on the species. The cost may vary depending on the particular kind of cockroaches infesting your home because some may require specialized treatments.
Size of the Property:
The cost of eradication will depend on the size of the property you have, whether it is residential or commercial. It takes longer, more work, and more money to eliminate an infestation in larger homes. The Cockroach Pest Control Price will depend on the size of your home. A professional exterminator typically charges between $220 and $400 to treat a property with up to 2000 square feet of living area. The price will probably be higher if your home is more than 2,000 square feet.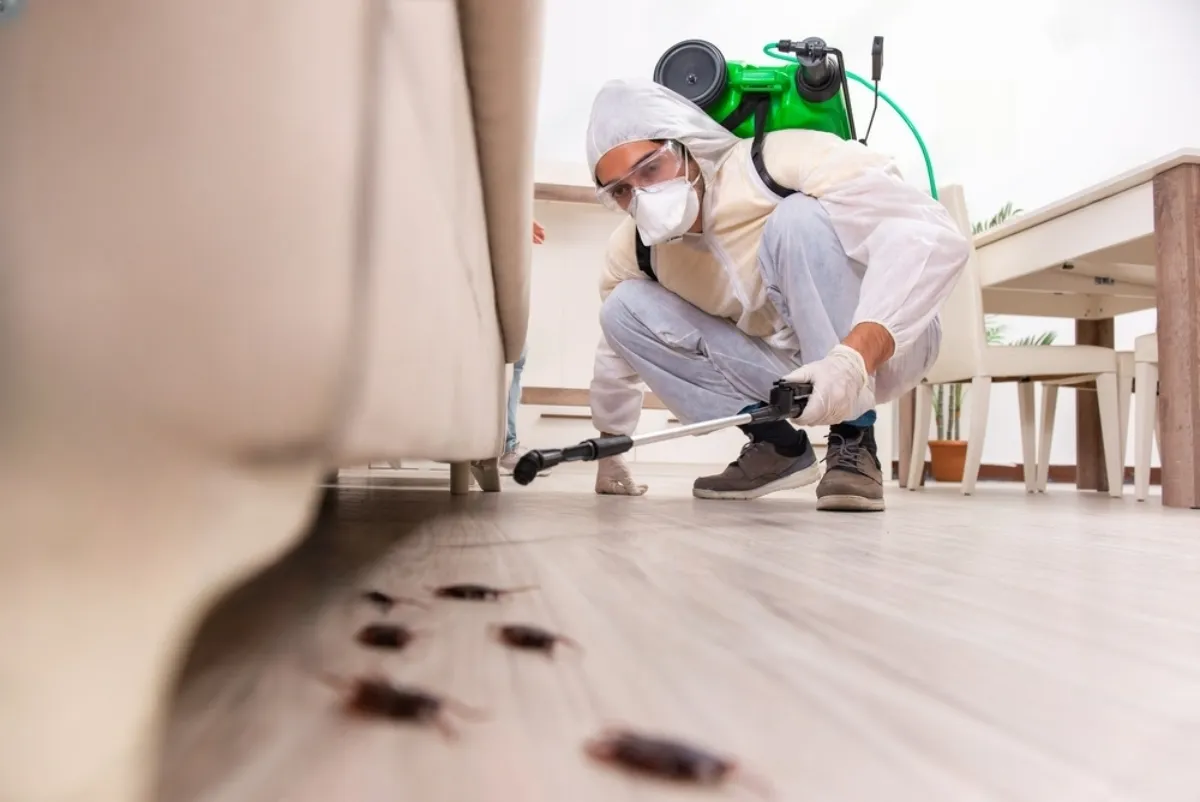 Treatment Techniques:
Chemical sprays, baits, traps, and disinfection can eliminate cockroaches. Because some approaches may require more expensive materials or involve more labor-intensive procedures, the method of treatment you choose can impact the cost. Here are some cockroach removal methods:
Spraying Technique:
Spraying is frequently the most cost-effective method of eliminating cockroach infestations. A professional pest will employ insecticides formulated for the species to eliminate cockroaches efficiently. The cost of spraying can vary according to the size and type of cockroach, but generally, it will fall between $45 and $100.
Glue Trap Method:
A glue trap technique might be employed for more severe infestations. This entails placing tiny trays with an adhesive substance in appropriate locations to catch the cockroaches. According to the size of the affected area, this procedure may cost between $105 and $595.
Baiting technique:
This approach is well-liked since it enables the exterminator to focus on a greater region. It entails setting up tiny gel bait trays in crawl spaces, kitchen cabinets, and areas close to pipes or drains where cockroaches congregate. Following that, the exterminator will keep an eye on the situation and frequently check the bait traps for indications of activity. This process can cost anywhere from $100 to $600 on average.
Fumigation Techniques:
The use of fumigation to eliminate pests like cockroaches is highly successful. When an infestation has spread throughout the house, it is beneficial. A gas or chemical vaporized and pumped into the region is called a fumigant. Whole-house fumigation might cost between $1,150 and $2,770 from a pest exterminator.
Dusting Technique:
Cockroach infestations can be effectively treated using dusting. This technique uses insecticides placed around baseboards, holes, and crevices in powder form. This treatment typically costs between $110 and $580, depending on the size of the infestation and the professional's level of expertise.
Frequency of Services:
The extent and amount of an infestation, along with its severity, will determine how frequently an exterminator visits your home. Monthly visits are advised if you wish to maintain control or are dealing with an increasingly severe cockroach infestation. Each visit to this will cost around $60 and $110. Most pest control businesses also provide yearly visits for between $230 and $525 for each treatment and quarterly visits for between $105 and $125 per service.
Read also What is the Best Solution to Control Spider Mites?
Costs of Cockroach Extermination on Average in 2023:
The pricing ranges below estimate what it would cost to exterminate cockroaches in 2023, while exact costs will depend on the abovementioned criteria.
Residential Properties:
Minor Infestation: The price for a small- to medium-sized home with a mild cockroach infestation usually varies from $150 to $300. Typically, this estimate covers just one treatment.
Medium to Severe Infestation: The price can vary from $250 to $650 if the problem is more severe or pervasive and calls for numerous treatments and other measures. The size of the land and the degree of the infestation will affect the cost.
Commercial Property:
Small to Medium-sized Businesses: Depending on the size of the facility and the intricacy of the infestation, the Cockroach Pest Control Price for small to medium-sized businesses, such as cafes or offices, may vary from $250 to $850 or more.
Large Businesses: Larger or industrial buildings may have larger treatment areas and continuous pest control needs. In these situations, cockroach extermination costs might range from $750 to several thousand dollars, depending on the facility's size and particular needs.
Conclusion:
A complete description of the Cockroach Pest Control Price is available for you. Costs for cockroach removal will vary depending on the extent of the infestation, the species of cockroaches, the size of the property, and the type of treatments utilized. For precise rates that are suited to your needs, get in touch with trustworthy pest control firms. Consider hiring a professional cockroach exterminator to remove these pests permanently and maintain a clean and safe environment in your house or workplace.