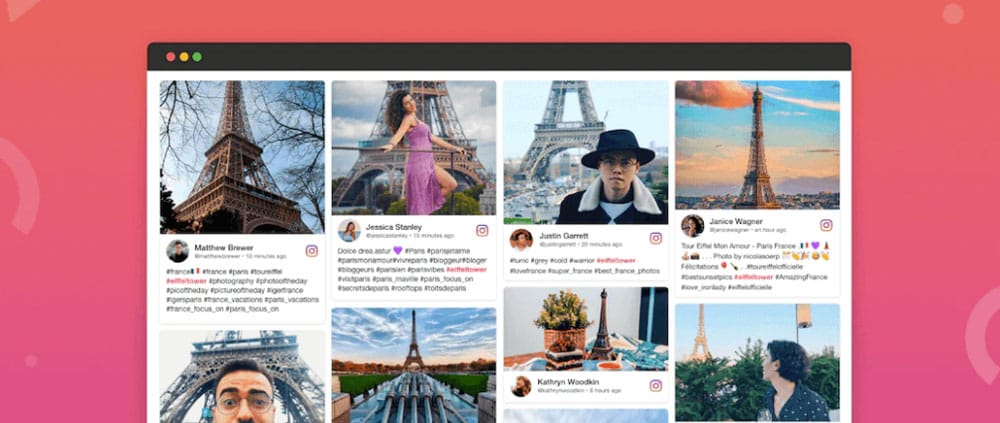 With the evolution of marketing over the past years, Instagram has emerged as the ultimate hub for marketing.
Be it a small business or a famous brand, everyone is trying to create a social presence on Instagram, and that's because of the impact this platform holds.
But things don't just end here. Brands have started bringing Instagram beyond social media by using tools to embed Instagram feeds to their website.
Why? Let's find out.
Why Embed Instagram Feed On Website?
Embedding an Instagram feed on your website opens the door to endless opportunities for your brand. You get to give your website visitors an insight into your social activities. Instagram's love among users is known to all. The Instagram feed captivates the website visitors, engages them, and when they spend time exploring your Instagram feed on your website, it increases your website dwell time.
You get to manage all your brand's content on one platform and leverage it on two. The Instagram feed updates in real-time, so whenever you make a post on Instagram, it automatically updates your website, improving your website's visuals and giving the visitors something new to engage with each time they visit.
Now that you know the 'why,' let's ponder upon some tools you can use to embed the Instagram feed on your website.
5 Best Tools To Embed Instagram Feed On Website
1. Taggbox Widget
Taggbox Widget is the ideal Instagram aggregator tool enabling users to embed Instagram feeds into their website. You can connect your Instagram account to Taggbox widget, choose a medium like hashtags (#), handle (@), mentions, tags, etc., and the aggregator will bring all your desired Instagram content together in one place.
Further, you can use its advanced moderation feature to filter out irrelevant or repeated content and manage the content that will appear on the website. Not just that, you get customization options to make your feed more vibrant and visually appealing for website visitors. You get options like themes, layouts, fonts, colors, templates, etc.
Above all, Taggbox Widget also provides performance analytics to manage your Instagram feed on a website or content as per what is working best for your audience and what they respond to the least.
2. Tagembed
Tagembed comes with an Instagram aggregator to fetch content from Instagram and modify the content before displaying it on the website to remove unwanted or irrelevant content. You get options to customize the Instagram feed using banners, designs, layouts, themes, etc.
The integration is code-free, so you need no techno-savvy to help you in the embedding process. Additionally, you get analytics to understand the performance of your Instagram feed widget better, improve the content and engage website visitors.
Besides, Tagembed supports various website-building platforms such as WIX, WordPress, Shopify, Weebly, etc.
3. SnapWidget
SnapWidget is a user-friendly tool that enables users to collect Instagram feeds with username and hashtags. You get easy setup options and can effortlessly customize your Instagram feed to display it on your website in the form of a unified grid, responsive slideshow, or a photo map.
This convenient tool offers quick updates so that you don't have to renew your website all the time. Although it does take a few minutes for the content to reach the website, its unique designs and layouts manage to captivate the website visitors and improve website engagement.
Besides, SnapWidget is compatible with all website platforms like Shopify, HTML, WordPress, etc.
4. Flockler
Flockler is an Instagram aggregator tool that lets you embed the Instagram widget on your website. You can start with its 30 days free trial. You get many layout options to draft your Instagram widget so that it perfectly blends with your website.
You get to moderate the content before running it on your website and customize the widget using colors, fonts, banners, and everything else this tool offers its users.
The integration is easy, and the setup is hassle-free. Flockler is ideal for increasing your website's dwell time and driving conversions.
5. Instagram's Official Embedding
Instagram has its embedding option. The only limitation is that you can only embed one post at a time, unlike other embedding tools that let you embed an entire Instagram gallery on your website.
But the integration is quite easy. All you need is to open the post you wish to embed, on a browser, click on the three dots at the top right corner of the post, and an options box will appear.
Choose the "copy the embed code" option and paste the code wherever you want to display the embed code. It is considered the easiest embedding option.
Let's Call It A Wrap!
Embedding an Instagram feed on a website is the perfect strategy to engage the potential audience by connecting your website and Instagram profile. It will increase your Instagram presence as a brand and enhance your website's performance.
We have now reached the end of this blog, where you got to know about embedding the Instagram feed to your website and the five best tools you can use to make embedding a seamless process for you.