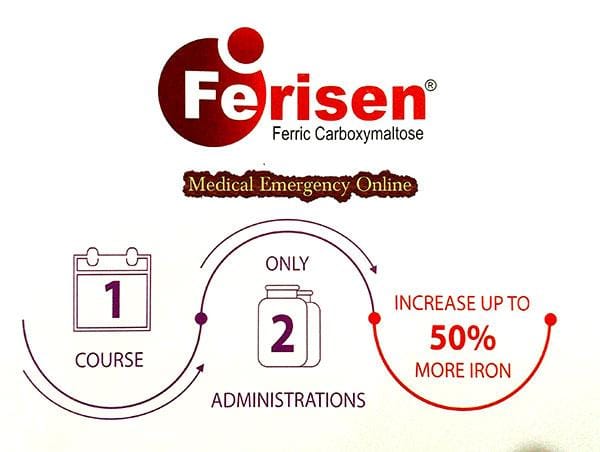 The novel design of ferric carboxymaltose offers better advantages compared to other intravenous iron therapies
More iron with less administration
More convenient and optimized dosing
Rapid and selective delivery of iron to the reticuloendothelial system of the liver and bone marrow
Better tolerance and well-established safety profile
The potential for cost-saving
Best way to treat iron deficiency anemia
If a patient suffers from iron deficiency anemia and anemia is not so severe, we should start the oral iron therapy. But if the patient hemoglobin level is below 10, the ideal treatment guideline is the Introduction of IV iron therapy. Previously we have given iron sucrose. But Iron sucrose have lots of adverse effects, and we have some better than iron sucrose now. Iron carboxymaltose in the novel IV iron therapy now.
Available Ferric Carboxymaltose Brand in Bangladesh
Ferisen Injection 50 mg/ml Ferric Carboxymaltose
Healthcare Pharmaceuticals Ltd.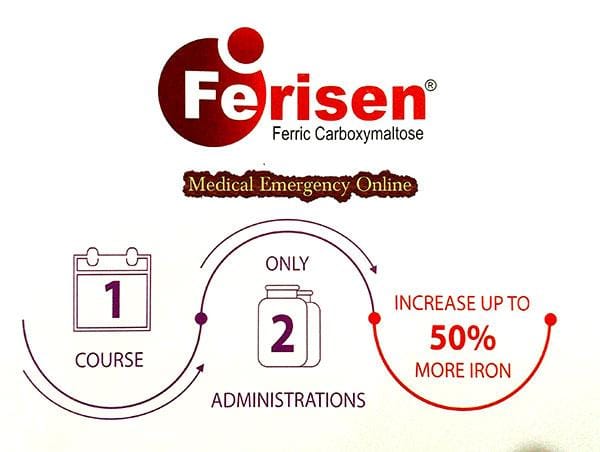 Xefer Injection 50 mg/ml Ferric Carboxymaltose
Ziska Pharmaceuticals Ltd.
Ferric carboxymaltose give superior efficacy
The mean change in hemoglobin level from baseline to highest value was greater with ferric carboxymaltose than iron sucrose.
Iron sucrose versus ferric carboxymaltose hemoglobin change
Below the graph, the provider compares ferric carboxymaltose and iron sucrose intravenous therapy.
Ferric carboxymaltose got substantial clinical evidence that higher than 40% publish studies docomeenting the safety and efficacy of ferric carboxymaltose.
you can also check our Osteoporosis and Role of Calcium Orotate comparing to Conventional Calcium Carbonate
Pharmaceutical form
Ferric carboxymaltose as a solution for injection or infusion. Every 1 ml of solution contains 50 milligrams of iron as ferric carboxymaltose.
Indication
Ferric carboxymaltose is indicated for the treatment of iron deficiency when oral iron preparations are inactive or cannot be used. The diagnosis must be based on the laboratory test.
10 Signs of Iron Deficiency
There are some symptoms by which you can understand you have an iron deficiency. The main signs are fatigue, difficulty focusing, muscle cramps, brittle nails, Unusual Pale skin, red urine, infections, trouble doing your normal workout, and breathlessness.
We have also included some iron-rich food in the image so that you can easily get the desired iron from your food habit change.
Iron sucrose / carboxymaltose dosing for iron deficiency anemia
Sometimes it is difficult for the determination of the iron need of the anemic patient. Normally we determine the total iron need of the patient from the patient body weight. If the patient body weight is below 35 kg, the usual intravenous iron requirement is 500 milligrams. Give the patient body weighs varies from 35 kg to 70 kg. The iron requirement differs from 500 mm to 1500 milligrams. You can consider the below chart for the iron-deficiency anemia treatment guideline.
Iron supplement amount and dilution
In the below chart, we discuss how you can dilute the ferric carboxymaltose with normal saline. In this chart, we also discuss the minimum required time to administer the iron by the intravenous route.
Dosage and administration
The comeulative doors for reflection of iron using ferric carboxymaltose are determined based on the patient's body weight and hemoglobin level and must not be exceeded. A maximum single dose of 50 milligrams per kg body weight up to thousand milligrams of iron can be administered once a week by intravenous injection.
A maximum single dose of 20 m per kg body weight of 2000 milligram of iron can be administered once a week by intravenous infusion. Do not administer 1000 milligrams of iron more than once a week.
Contraindications
Hypersensitivity to the active substance or any of its excipients, non-serious hypersensitivity to other parenteral iron products, anemia not contributed to iron deficiency, iron overload for the disturbance in the utilization of iron.
Fertility Pregnancy and lactation
There are no data regarding the effect of iron carboxymaltose on human fertility. No effect could be seen on animal fertility following treatment with iron carboxymaltose. I'm pregnant women iron carboxymaltose should be administered only when the benefit outweighs the risk for both the mother and the fetus. The treatment should be confined to the second and third trimester. The transfer of iron carboxymaltose to human milk was negligible.
Side effects
Common side effects include headache dizziness hypertension, nausea injection site reactions transient blood Phosphorus decreased, alanine aminotransferase increased.
Overdose
Accomeulation of iron male lead to hemosiderosis. Monitoring of iron parameters such as serum ferritin and transferrin saturation may assist in recognizing iron accomeulation.
Storage
Store in the original package to protect from light. Do not store above 30 degrees Celsius. Do not freeze.
Special precautions for disposal and other handlings
Inspect samples visually for sediment and other damage before use. Each ampoule of ferric carboxymaltose is intended for single use only. Any unused product or waste material should be discarded. No other intravenous dilution solutions and therapeutic agents should be used. As there is the potential for precipitation and interaction.
Mark the 17 iron-rich foods by which you can easily level up your hemoglobin.
Ferric carboxymaltose benefit
Transform your patients' iron therapy experience with ferric carboxymaltose. It gives the following benefits
Ferric carboxymaltose offers a simple and more convenient dosing regimen resulting in patients' convenience.
Ferric carboxymaltose provides up to 50% more iron in just two administrations.
It offers better safety and efficacy with significant improvement in hemoglobin and ferritin level.
Per course, treatment cost with ferric carboxymaltose is lower and beneficial for patients.