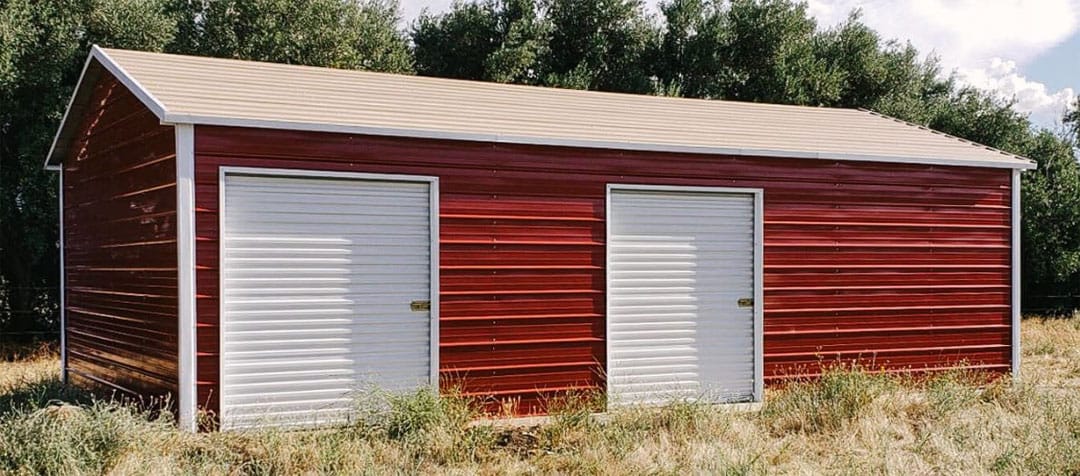 It's already summer, and if you're thinking about investing in a metal building, keep the scorching heat in mind. Metal buildings are strong, durable, fire-resistant, cost-effective, and can withstand harsh weather conditions, to name a few advantages. They are, however, conducive to heat. The temperature inside a metal building varies with the seasons.
So, if you're thinking about purchasing a metal building, make sure you know how to keep it cool during the summer.
Techniques to Keep Your Metal Building Cool During the Summer Season
There are several methods for keeping your metal building cool during the summer, ranging from insulation to landscaping. Each method is effective in its own way and can be used to provide you with peace of mind inside your metal building during the hot summer days.
1-Insulate Your Metal Building
What exactly is insulation? Insulation is a material that prevents heat from transferring from one location to another. Insulating your metal building, no matter how big or small is an important way to control the temperature inside. If you are insulating an existing metal building, you must upgrade the insulation to meet local building codes. If you are constructing a new structure, make sure to insulate it to the minimum recommended R-value for your location. Insulation keeps outside heat from entering your metal buildings, keeping you cool and relaxed during the summer.
Unique Designer Ideas for Creating the Metal Building Home (shoutmecrunch.com)
2-Keep Enough Ventilation
Another way to keep your metal building cool during hot weather is to have good ventilation. One of the most effective methods is to use natural ventilation. For cross ventilation, keep multiple doors and windows in your metal building. You can also construct an extra door, a walk-in door, or a roll-up door to help maintain the building's air quality.
You can also use wind-driven roof ventilation, which rotates the vent when the turbine fans are hit by the wind, pulling hot air outside and keeping the inside space cool.
Other energy-efficient ventilation systems can be installed in your metal building in addition to this. You can also install an air conditioner and a heater.
3- Smart Landscaping
Another way to keep your metal building cool during the day is to landscape it. Planting trees and shrubs that cast shade on your metal building's west and south-facing walls and windows can also help to keep the temperature down. Trees shade the roof from the hot summer sun, and plants and shrubs keep the metal building walls cool. When landscaping, keep a little space between the plants and the building so that humidity does not become an issue.
Another way to keep your ground cooler is to mulch the soil around the plant beds next to your house. Mulching is also very effective at conserving water. It keeps heat from being absorbed by the ground.
Why Steel Buildings are Mostly Preferred by the Huge Shopping Zone (shoutmecrunch.com)
4-Install a Cooling System
Investing in an environmentally friendly cooling system is another excellent way to keep a metal structure or metal garage cool during the summer. Assume a metal structure is located in a region where summer temperatures are naturally high. In that case, an excellent environmentally friendly cooling system could be one of the wisest investments.
The cooling system may be expensive, but it also performs well by generating ice at night and using the same ice during the day to beat the heat of the sun's rays.
5- Choose Light Colors for Your Metal Building
The sun is drawn to dark colors. Heat can be reduced by applying bright and reflective paint colors and coatings to pre-engineered metal structures. Make certain that when you choose to give your metal building a lighter shade, you include all of these components.
Panels
Cladding
The roof of the metal buildings
Outside Walls
Lighter colors are preferred for painting and coating metal buildings because they readily absorb heat and significantly change the inside temperature. The interior of your metal building will be kept cool by using light colors.
10 Common Mistakes to Avoid While Buying Metal Garage Buildings (shoutmecrunch.com)
6-Choose a Different Skylight Roofing Design
Another effective way to keep your DIY metal buildings cool during the summer is to redesign the roof skylight. Close to the skylight, use open-sided cylinders or mirrored reflectors. This will help provide daylighting without raising the temperature.
Installing open skylights with outward openings from the bottom also helps to cool the temperature by allowing hot air to escape through the opening.
Invest in a Metal Building
From color to roof to growing plants in your Prefab metal buildings, these are some of the most important tips you can use to keep your metal building cool during the summer. These methods not only keep the temperature of your metal building low but also improve energy efficiency and air quality.