How much does it Cost to Develop an Uber-like taxi app?
Taxi business is a highly competitive niche, and to stay competitive, a flawless mobile app is necessary. No matter you are new to the taxi market or an active player, you must invest in an Uber-like taxi app to gain immense benefits of technology and convenience at the same time.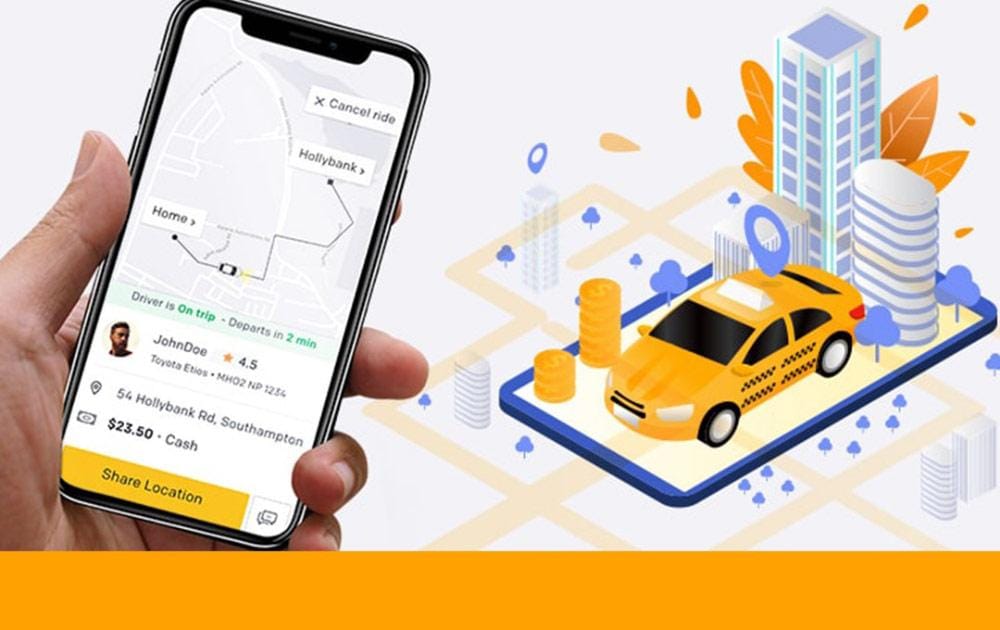 According to Statista, the revenue in the ride-hailing segment is equals to $183,677 million in 2019. And it is anticipated to show an annual growth rate of 14.8%, resulting in a market volume of more than $318,765 million by 2023. With this massive surge, it is mandatory to take the benefits of such a booming industry by having a mobile app.
Developing an on-demand taxi app like Uber cost just a fraction of your revenue. All you need is to invest a few of your capital without any hesitation. If you are unaware of the concept of creating a taxi booking app, then here's your guide.
Why you need an Uber-like taxi booking app?
This should be your first thought that why should you invest in an app when you can run a business without an app. Then, the below figures will make you reconsider your decision of not investing in a mobile app.
As you read above that the market for taxi applications has grown significantly in the past few years.
Uber remains the leader and your toughest competitor.
Right now, the global market value of Uber is $72 billion.
Uber has completed more than 5 billion rides and 40 million trips per month in the US.
Uber is not the only player in the taxi business. In 2017, taxi booking apps captured a significant taxi market share of more than 40%. According to Statista, the US taxi service revenue is expected to reach $2.81 billion by 2020.
How does the online taxi booking application work?
The working of an online taxi booking application is very simple, and you can elaborate on these steps:
A passenger downloads the app, register with a phone number, email, or social media accounts.
After registration, the passenger requests for the cab through the passenger app.
The request is automatically sent to the nearest driver.
The driver has the right to accept or deny the request. If the driver refuses the request, it will be automatically transferred to the next nearest driver.
After the driver accepts the request, the passenger tracks the cab on his map and checks the estimated time of arrival.
The passenger gets the real-time updates of the cab, the profile of the driver along with a call button.
The passenger can pay in cash or can pay with one of the payment gateway integration methods, including credit or debit card, UPI, mobile wallets, net banking, and others.
After the ride, the passenger leaves riding feedback and his experience about the trip with the help of ratings and feedback features.
Thus, all these steps, their necessary features, their integration, and development hours should be considered for getting an idea of taxi app development cost.
Taxi booking app development process
The taxi app development process starts with building the MVP, known as a minimum viable product. The MVP consists of the driver app, the rider app, the dashboard, and the analytics. It only offers limited functionality, and you can add the features as per your requirements later on.
The first version of the Uber app did not contain any special features like cost splitting. It only helped the passengers and drivers to connect and allow them to make payments from the app. With the MVP, you can test the working of the app and idea behind the market facilities and start to add new features.
The taxi booking app development includes creating four essential aspects, including passenger app, driver app, dashboard, and analytics.
Taxi booking app development cost
The taxi app development cost depends on many factors, including features, type of apps, niche, and others. You can calculate the price on a basic set of parameters and the required time for each scope of work. You can consider these essential factors and calculate the value at the initial stage of development.
Here's a brief segregation that might help you to get a rough idea about the taxi app development cost.
Features

Integrations

Development Hours

Maps and locations

Google Maps integration
MapKit for iOS
Android framework location APIs

Geolocation 32 hours
Creating ride 35 hours
Tracking of ride 73 hours

Payments

Stripe
Braintree
PayPal
Google Pay

Payment integration 58 hours
Add or scan a card 40 hours

Login and Profiles

1.      Facebook

2.      E-mail

3.      Phone number

1.      Sign in/out 7 hours

2.      Registration via email 16 hours

3.      Registration via social media 9 hours

4.      Registration via phone number 33 hours

5.      Profile editing 48 hours

Communication

1.      SMS notification

2.      Apple Push Notification

3.      Google Cloud Messaging Service

1.      Push notification for iOS and Android 38 hours

2.      SMS integration 32 hours

Total hours

430+
How to calculate the cost?
The above table shows all necessary features, their integration, and their development hours in detail. The actual taxi app development cost depends on the per hour rate of the mobile app development company. According to Statista, the average mobile app development rates vary in different countries.  
| | |
| --- | --- |
| Country | Per hour rate in $ |
| UK | 60 to 150 |
| US | 70 to 250 |
| India | 20 to 100 |
| Australia | 90 to 150 |
| Singapore | 40 to 120 |
You can multiply the development hours along with the per hour rate based on different countries to get a rough idea about the taxi app development cost. Although you cannot cut off the features, as they are vital for running a taxi business, you can cut down the integrations to save time and cost. An excellent mobile app development company will guide you on how to get the best out of your investment.
Diversification of taxi booking app cost
Furthermore, the overall cost can be divided into four parts. The driver app, the passenger app, the dashboard, and Quality check and assurance.
The driver app can take up to 14% of your investment.
The passenger app can take up to 33% of your investment.
You need to spend 14% of your investment in developing a dashboard.
And the remaining 39% covers the cost of quality check and bug fixing.
Taxi booking app cost based on features
The features included in the passenger app and driver app also contributes to the cost of app development. You can add the taxi app feature as per the expectations of your customers and as per your business requirements. Here are some of the basic and advanced features that you can implement in your app.
Basic taxi app features for customers:
Login with social accounts, email, and phones
Registration and adding personal information
Geolocation and real-time mapping
Push notification
Flawless user interface
Communication with the driver
Payment integration
Ratings and feedback
Advanced features of customers
Advanced or scheduled booking of a cab
Splitting the fare with the companions
Book rides for others
Basic features for drivers
Monthly or daily reports on earning and performance
Route optimization
Calling to passenger from app
Personal profile editing
Active or Inactive status editing
Advanced features for drivers
Heat maps
Driver destinations
Free cancellation in a predetermined time
How to find a suitable taxi app development company?
With thousands of mobile app developers across the world, finding a good taxi booking app development company is a hassle. All you need is to do your research, get the reference, or browse some of the best mobile app development companies online. You can check out their portfolio and expertise to develop a taxi app. You can discuss your taxi business hurdles and asking how the company is efficient in solving them with their mobile app solutions.
Author – Bio
Mushahid Khatri
Mushahid Khatri is a Chief Executive Officer at Yelowsoft, one of the leading Taxi Booking app development company. It is known for developing Taxi Dispatch Software of unmatched quality. He believes in sharing his strong knowledge base with learned concentration on entrepreneurship and business.