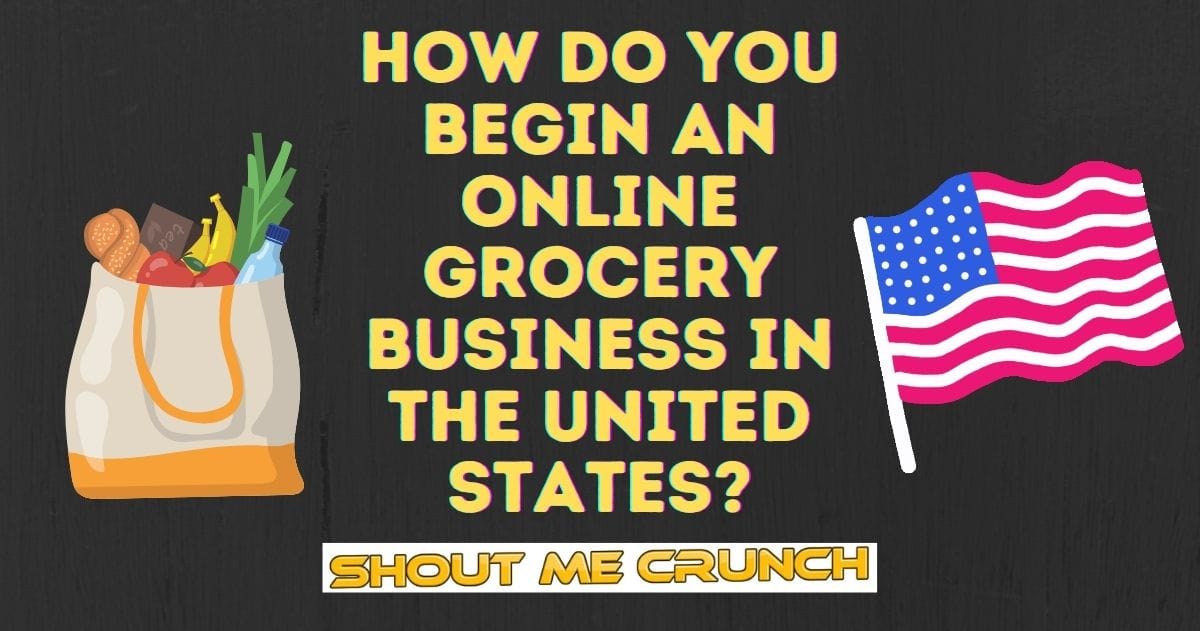 If you are an entrepreneur planning for a grocery business or by online grocery delivery app, we have brought this article for you. Here are the areas that we will cover in the report.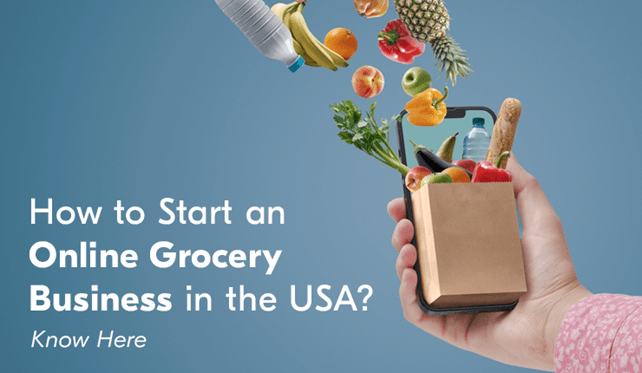 According to the sales, grocery delivery apps in the USA will become $59.5 billion by 2023. Other figures suggest that 48% of consumers already purchase grocery items online, with 25% citing they would make 40% of their purchases through these platforms.
Looking at these numbers, you must be wondering why are these online platforms in such excessive demand. The answer to this is their act as a medium for saving time, followed by aiding users in locating items they may not be able to find in stores.
    • Benefits of starting an online grocery app clone in the USA
• Market share of the online grocery business in the USA
• Popular grocery delivery platforms used by US consumers
• How to start an online grocery business?
• Conclusion
Benefits of Starting an Online Grocery Business in the USA
Take a peek at the graph below to observe why shoppers prefer shopping from grocery delivery apps in the USA.

Market Share of Online Grocery Delivery Apps in the USA
Take a peek at these facts and figures to know about the unique facts and figures that depict the lucrative nature of online grocery delivery apps in the USA.
1. Online grocery sales to become $160.91 billion in 2023.
2. The number of digital buyers is to become 151.5 million in 2024.
3. Walmart and Amazon are among the USA's most sought-after grocery delivery apps.
Popular Grocery Delivery Apps in the USA
The numbers above depict the reasons for the popularity of online grocery delivery apps in the USA. However, are you aware of the prominent names? No? Don't worry. We have them listed down below-
So What's Next?
In the USA, there are different places where you can observe your profitability and visibility boosting through the creation of the venture, with San Francisco being a leading one. Therefore, getting the ball rolling for your online grocery business in San Francisco is a good idea.
Shout Me Crunch previously published lots of similar app-related articles like cloning or building apps for cheap. You can bookmark the following links if you want to know the details of app clone learning step by step.
How to Launch Grocery Delivery Business in San Francisco?
In the lines below, we explain the different strategies that will help you when you want to get a perspective on how to launch a grocery delivery business in San Francisco that streamlines the way customers shop groceries online.
1. Know About Your Target Market
Make sure that you, first and foremost, have adequate knowledge about your target market. This means having a good idea about their wants, needs, and requirements. Next, identify their concerns, followed by getting a perspective of the region's demographics where you plan to launch the business. In other words, assess the age group, genders, etc., who use the grocery delivery apps in the USA more.
2. Be Aware of Your USP
USP, or unique selling point identification, is the second area that you need to take into consideration when you are about to create grocery delivery apps in the USA. To perform this, assess your competitors, and know your target market. Perform SWOT (strength, weakness, opportunity, threat) analysis to gain insight into this aspect. This will help you locate one factor that sets you apart from your competitors, ensuring they get served well.
3. Research on Latest Online Grocery Delivery Business Trends
This is another area that you cannot do without. Make sure you have researched the latest online grocery delivery business trends. This will help you comprehend the methods that will drive user engagement and stay in sync with those trends.
The age group 30 to 44 prefers purchasing through online grocery delivery apps in the USA.
Customers are willing to pay in return for comfort.
Brick-and-mortar shops shortly will observe their presence going down.
4. Be Knowledgeable About Popular Grocery Delivery Apps in the USA
Know popular grocery delivery apps in the USA. Know about their activities, their success story, their USP, etc. Then, check the missing elements in their platform. Once you perform all these activities, go ahead and check the addition of which feature will be more beneficial and will help you to fetch more users.

Here are the ones that you can notably include –
Product listing and categorization of items
Create shopping list
Schedule delivery and order tracking in real-time
Multiple payment options
Add to cart
5. Stabilize Delivery and Affiliate Supply Network
The delivery and supply network must be stable and have a significant presence. This will streamline the connection chain, ensuring delivery takes place smoothly when customers shop for groceries online through your platform.
Therefore, when going about this, make sure to partner with local vendors and keep your connection intact with different retail chains so that other tasks like inventory management and sales management are streamlined.
6. Select the Appropriate Business Model
To ensure that the delivery process remains agile, precise, and efficient, you must select an appropriate business model.
7. Get in Touch with Grocery Delivery App Development Company
The last crucial step you must consider when creating online grocery delivery apps in the USA is contacting a grocery delivery app development company. This is a relevant way to save on costs while performing grocery delivery app development services.
However, it is to be remembered that you keep some pointers in mind during the process-
Assess the company portfolio
Examine the client reviews
Have a perspective on the past apps they developed
Know their competency in developing grocery app clones, keeping in mind that when you get its access, you alone remain its sole owner
What Does This Entail?
Reading this comprehensive guide, you can understand why it is a lucrative prospect to get your online grocery venture rolling in the USA and the techniques to help you when you want to know how to launch a grocery delivery business in San Francisco.
One of those strategies was to get access to the grocery app clone. These solutions are known for their adaptable nature. Hence, customizations are easy to make based on future business and customer needs. However, during its adoption, it is to be remembered that many such solutions are present in the market. Hence, ensure you have researched them well and integrated them into your operations. Furthermore, while getting its integration, focus on the cost.
Cost to Build Grocery Delivery App Clone
When you are about to launch online grocery delivery apps in the USA, you must have your finances in line. Hence, it would be best to integrate the clone app solution into your operations.
When you are doing this, research is mandatory, followed by selecting an appropriate business model. With these in check, you can see your business getting the digital edge with finance in line.
However, if we have to provide you with a rough figure, the cost of building a grocery delivery app clone will be $40,000 to $60,000.
Concluding Lines
The USA is a flourishing market for on-demand grocery delivery services and online grocery businesses. Hence, starting a business that addresses customer needs by allowing them to shop for groceries online will be lucrative. If you are about to do so, get in touch with a grocery delivery app development company today that will partner with you to create a solution that allows you to become part of the billion-dollar grocery app market in the US in a short time.
Author Bio:
Sophia Wilson, the enthusiastic digital marketer & blogger, is working at Grocery App Clone – XLGrocery, a readymade product of XongoLab Technologies. As a hobby, I love to share my knowledge through content marketing.