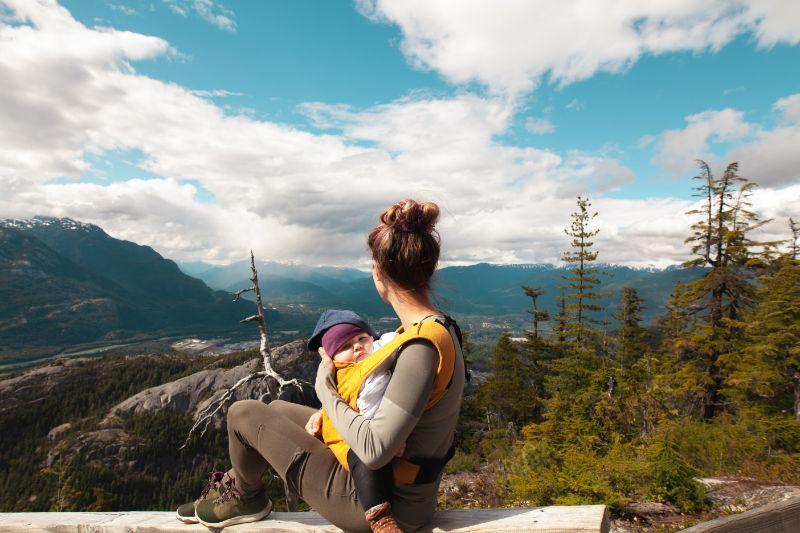 Traveling with children is possible and even necessary. And do not postpone family trips to a certain age of the child – the sooner you start practicing it, the better. For the vacation to be informative and comfortable, prioritize correctly and take with you essential and useful baby gear. We gathered ten genius products which will make your trip easier. 
Micro Kickboard Luggage Eazy
Do not know what to do with your child at the airport? Then a super-fashionable suitcase will help you. You can put all the necessary children's things for hand luggage in it and ride, or it is convenient to sit on it in line. If you have a particularly long way to go, you should buy a suitcase with a car seat lock. With such children's "transport," any trips are pleasant.
Trunki Wheelchair
Thousands of parents have already appreciated this multifunctional children's accessory. Just imagine: you can fit the entire vacation wardrobe of a child into it, and if necessary, put your child tired of a long walk from above and ride with a breeze. And children over two years old can do without your help – they can ride a suitcase like a run bike, pushing legs off the ground.
Read also Tested & Tried Travel Tips For Safe Travel with Your Family
Totseat Highchair 
It is a fabric chair cover. Totseat can always accompany you on the last minute travel with a child from 6 months to 3 years. The main thing is that the child can already sit independently.
With this simple device, you can turn any chair with a back into a highchair and feed the child at a party, hotel, restaurant. Everything is done very quickly and easily. By the way, a fabric chair can be used for almost any place with a backrest of different heights, widths, and shapes, thanks to special fasteners and safe wide straps.
If everything is done correctly, a child cannot fall out of it under any circumstances (although, of course, you should not leave it for a long time without supervision). The fabric chair is very light, and it weighs only 360 grams. It takes up little space, about the same as a couple of diapers, and easily fits in a handbag.
Yoomi Baby Bottle Reusable Warmer
Another useful little thing, without which it is difficult to do on the road with a small child.
This miraculous device heats the milk to the desired temperature (that is, to the warmth of breast milk) in just 60 seconds. You need to click on the button. Ideal trip.
SnoozeShade
It is an entirely pleasant thing and the best protection for a child while walking, on the beach, and in the car.
Just put the SnoozeShade curtain on the stroller or the baby car seat – and the "camper" is ready. It can be used from the very birth of the baby. It does not let in the sun's rays and creates a comfortable temperature and twilight inside the stroller or car seat.
Read also A Final Checklist When You Are Travelling With Kids
The fabric of which the curtain is made is soft and porous, passes air well, and is safe. Besides, the curtain can protect the baby from insects, dust, wind, snow, and rain. That is, you can use it all year round for both travel and leisure.
GPS Tracker
It is the top reviewed product in travel blogs. Miniature GPS trackers are created to prevent the baby from lost in a crowded place. Attach them to the child's clothes or hands in the form of a watch and allow you to track the baby's location precisely up to a meter. The most modern beacons have built-in memory for phone numbers, SOS button, voice communication.
ImBaby Travel Bed
A folding bed will help the baby under the age of one and a half years sleep in a new place. Designed as a travel bag, it is very compact. You can use the crib anywhere – both in the airport lounge, and on the plane, and even in the car during a stop with a travel pillow.
For older children, a traveling playpen is suitable. This accessory holds a full berth and space for games for an already grown baby. When folded, this crib looks like a carrying.
Check: Tips for Special Needs Families For an Unforgettable Family Trip
CoolMum Travel Tray 
A side table with the possibility of attaching to a car seat will help entertain the baby on the road. On a hard surface, you can conveniently place your favorite toys, coloring with pencils and even dishes with baby food. In the side pockets, you can fold everything that comes in handy on the road – both for the child and the parents. Some models come with an organizer for travel accessories. This accessory is suspended on the passenger seat's rear surface and provides additional storage space for children's items.
OKBaby Travel Pot
Here is a genuinely irreplaceable travel gear! This accessory looks entirely unlike a traditional pot, but the function performs the same. Put special cellophane liners on the plastic seat – which, incidentally, can be used as a lining on the toilet in public places. They are disposed of like regular diapers. Everything is very convenient, compact, and sterile.
Zadro Nano UV Disinfection Scanner
If antiseptic gels cause distrust in you, and microbes that threaten your child's health and life appear everywhere, you will definitely like this gadget among other travel items. A portable scanner-disinfector kills up to 99.9% of bacteria and viruses. At the same time, it can act on any surface, including silicone, plastic, or rubber. Now you do not have to run in search of boiling water if the baby's nipple fell to the ground.
Conclusion
Traveling with small children now will not surprise anyone. Pampers, mashed jars, cooler travel bags, hammocks for babies, and other gadgets greatly simplify the life of modern parents with travel planners. Nevertheless, fears among parents, especially those traveling with a child for the first time, remain abundant.
All the products that we have talked about will help you go on any travel deals already fully armed. Do not save on quality and comfort – almost all travel devices will come in handy in everyday life: at a party, during ordinary walks and short trips.
Have you used any products from our review? What did you like the most? Tell us about it in the comments. We wish you a pleasant trip!
Read also 5 Expert Tips on Managing Adventure Trips with Kids
Author's Bio:
Betti Wilson is a freelance author, but, what's more important, what she is really devoted to, is her children. In her articles, she shares her own experience and writes about parenthood, lifestyle, family challenges, and how to deal with them without losing a positive attitude.