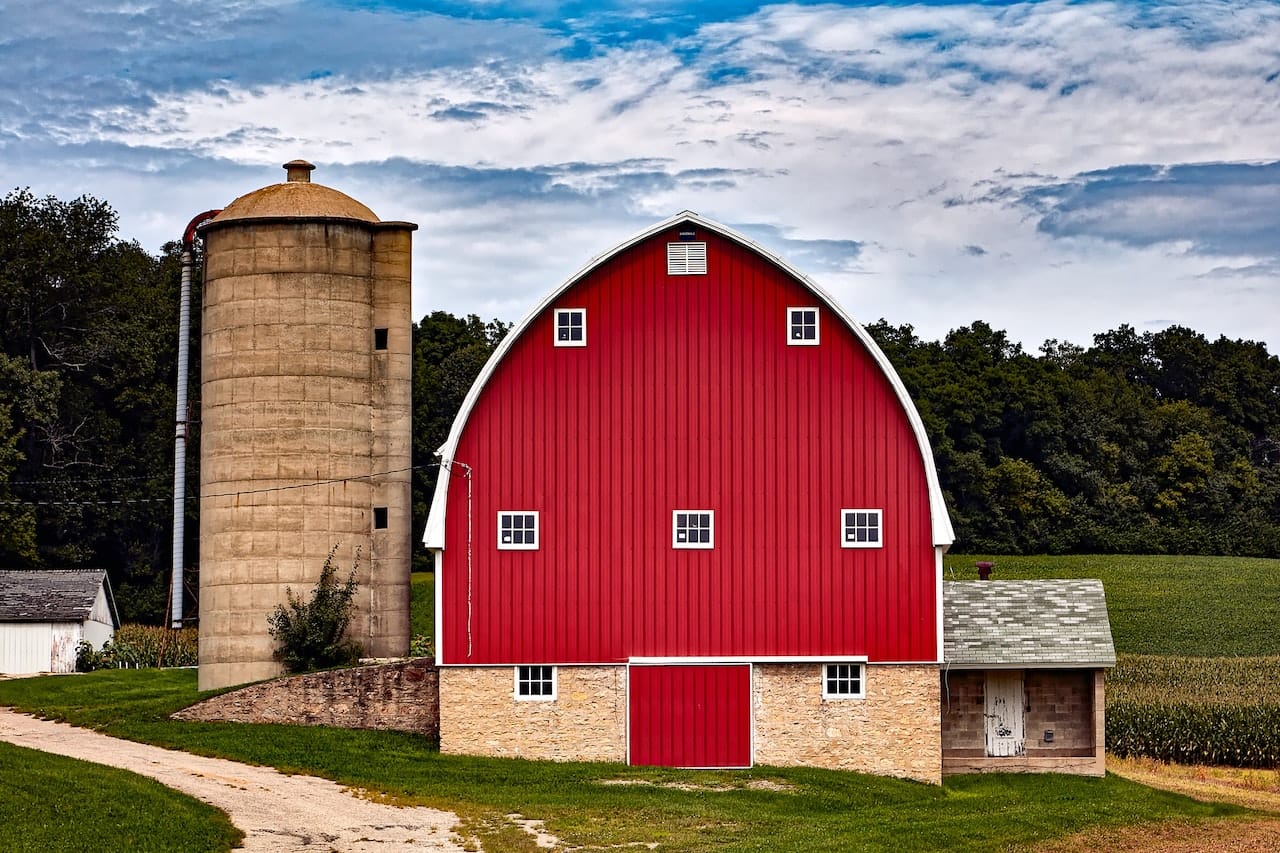 Are you looking for a new barn for your horses and other livestock? We generally think and visualize a barn of wood. Barns are home for your livestock, especially your horses, and they also have other uses.
Gone are the days when people used to buy traditional wooden barns. Now steel barns are gaining popularity with time because of their advantages.
Why are Steel Barns Gaining Popularity nowadays?
Although wooden barns have long been a standard for agricultural construction, we are pleased to introduce steel as an alternative for barn construction. Steel is very cost-effective and easy to customize building material. It can save up to 50% of building costs over wooden barns in delivery and installation. While wooden barns have a traditional appealing aesthetic, metal barns have become just as cute while offering more affordability, versatility, durability, and less long-term maintenance.
Checkout What Type of Garage Door Opener is Best for a Home?
Metal barns offer the long-term agricultural and farming benefit of protecting your machinery and equipment. Ranchers and farmers can keep their essential farming equipment under affordable steel barns. Building a metal barn can result in lower upfront and long-term costs and fewer liabilities. If you use pre-engineered steel, you can also erect metal barns faster and make your barn more versatile. A wide range of metal barn buildings is available, which makes it easy for you to make a choice that suits your needs.
Benefits of Adopting a Steel Barn Over a Wooden Barn
However, as you will see, nearly all of the performance benefits you will be looking for in your barn point to metal. And as you look at metal barn designs, colors, and other finishing touches, you may realize that a metal structure can look just as good as a wood structure.
Here is a long list of benefits of metal barns over wooden barns that will convince you to opt stele barn for your agricultural and storage purpose over wooden barns-
Metal Barns have Low Construction costs Over Wooden Barns
Metal barns are typically less expensive to build than wood barns. It is especially true if you purchase a ready-made kit. Not only are building materials generally less costly, but so are labor costs. Similarly, metal buildings are typically less expensive to maintain even after the barn builds. That means your ongoing costs for a metal barn will almost certainly be lower than those for a wooden barn.
Affordable barns and construction are critical for agricultural industries. Saving money on a durable and long-lasting barn in both up-front and long-term costs could be invaluable to you as you consider your barn-building options. Lower material costs, lower labor costs (due to faster construction), lower maintenance costs, lower insurance costs (due to the lower risk of constructing with metal), and the cost-effectiveness of the barn's versatile design are all cost advantages of a metal barn.
Get a Garden Shed to Meet Your Every Need
Metal Barns are more Durable Than Wooden Barns
Any significant investment aims to ensure that it will be around for an extended period. If you've ever driven off the usual route and noted how many ancient barns still exist on wilderness roads, you know that classic stick-built barns last. They do, however, need some upkeep over time. For example, wood is a natural substance that may deteriorate when exposed to the environment.
Metal pole barns and prefabricated steel constructions are less prone to degradation. These structures have 50-100 years and require little upkeep. Metal sheeting fixes a pole structure, generally constructed of timber in pole barns. On the other hand, steel barns employ metal beams and cladding, which removes the possibility of rot.
Metal barns take less time to construct Than Wooden Barns
Metal structures are rapid and straightforward to erect. The sections and parts are manufactured in advance and supplied to your location. They are all made to complement one another nicely. As a result, once the components are on site, it is merely a matter of assembling them. When building a barn out of wood, this is often faster than cutting construction materials to size. Metal structures are not only faster to manufacture but also easy to install because less measuring or cutting is needed.
Because steel construction is quick to install, there will be no delays or issues due to weather throughout the construction process. For example, suppose you must create a structure for your business, organization, or community. In that case, pre-engineered metal structures may provide you with the high quality, flexible design, and durability you want in a short, convenient period. Steel is a fantastic choice for building if you're short on time. When you need it, your facility will be there, waiting for you, and completely functional. If you have a tight construction deadline, pre-engineered metal construction may be a very advantageous alternative for you.
Unique Designer Ideas for Creating the Metal Building Home
Insulation and Ventilation
Keep your horse's health and safety in mind when deciding on the best materials for a horse barn. Above all, the barn serves as a home for the animals. Metal barns are advantageous because they open many doors to allow for cross-ventilation. Metal is also non-combustible, which might help delay the spread of a barn fire.
Wooden barns provide natural insulation, and while wood is flammable, it can catch fire easily. Most metal barns include an internal wood wall that offers insulation while acting as a barrier between horse hooves and the outer wall.
Metal Barns Require Less Maintenance
Wooden constructions, by definition, require a great deal of upkeep. However, it is costly and time-consuming to paint and replace rotten wood. Moreover, galvanized steel barns require significantly less maintenance.
Metal Barns are Versatile and Flexible Over The Wooden Barns
Expanding onto a metal barn is typically less complicated and less expensive than adding onto a wooden barn. That implies that if you need to grow in the future, having a metal building in place will make it much more manageable. It gives you much flexibility regarding how you may expand and adapt as your needs evolve. For example, one of the best aspects of having an agricultural site is its potential to develop significantly! We like watching folks in the agriculture field achieve tremendous success, establishing lofty objectives and exceeding their expectations. Steel structure brings this much closer to reality.
We are accustomed to the appearance and feel of a wooden barn. It has such a long-established look that it might be challenging to envision a farm without a typical wooden barn. Fortunately, with the progress of steel building, it is now feasible to design a barn with a similar appearance that requires far less maintenance. A steel barn may also provide your agricultural institution with a long-lasting, new aesthetic that demonstrates the quality of the job you undertake.
Countertop Ideas for Your Newly Built Kitchen
A metal structure's flexibility and versatility allow you to adjust to changing scenarios. This independence is essential regardless of whether your construction is for business, community, or home use. Metal's lightweight attributes make it a simple, flexible choice for creating anything imaginable while preserving structural integrity.
Ease of Building
Labour is one of the reasons that a metal pole or steel prefab barn can be less expensive than a traditional wood barn. For example, a crew of four can install an average-sized 40 x 60 metal barn in approximately a week. A DIY wood barn kit takes six to twelve weeks to complete with the same number of people. When it comes to labor expenses, metal buildings are more efficient.
But that isn't all. Steel structures are relatively simple to expand, making unforeseen plans for future development easier to implement. So while you can add a lean-to or nearby structure to a wood barn, the weight of the construction materials and the stress on the foundation are significant concerns with wood.
Metal Barns are Safe Than Wooden Barns
Metal horse barns are designed to keep your horses safe. Metal barns are customized well designed barns that will keep your horse always safe and close to you. Sadly, barns made of wood and packed with hay are the ideal location for a fast fire. Furthermore, their remote position makes it difficult for the fire service to arrive swiftly. When it comes to preventing barn fires, horse owners follow all laws. During the design and selection phases, significant factors include the building's accessibility to water sources such as a pond, material selection, and utility placement.
Almost half of all barn fires occur overnight when no one is around to put them out. And surprisingly, a more significant proportion of fires occur.
Steel Barns Have Strong Foundation
The majority of wooden pole barns are built straight into the ground. While the wood has been treated, it can only withstand so much in terms of weather extremes. Steel barns are connected to a concrete base, which makes them far more sturdy and weather resistant.
Conclusion
There are several advantages to building a barn out of metal rather than wood. Before determining which solution is best for your requirements, thoroughly analyze both possibilities. Spend some time looking over the numerous prefabricated metal barns on the market to determine if any of them are good for your property.
You might desire your metal barn now that you've seen the distinctions between wooden and steel barns and the advantages of employing steel for agricultural buildings.
what are you looking for?
metal barn
metal barn kits
metal barns for sale
metal barn homes
metal barn siding
metal barn buildings
metal barn door
metal barns near me
metal barn central
metal barn kits for sale
metal barn builders near me