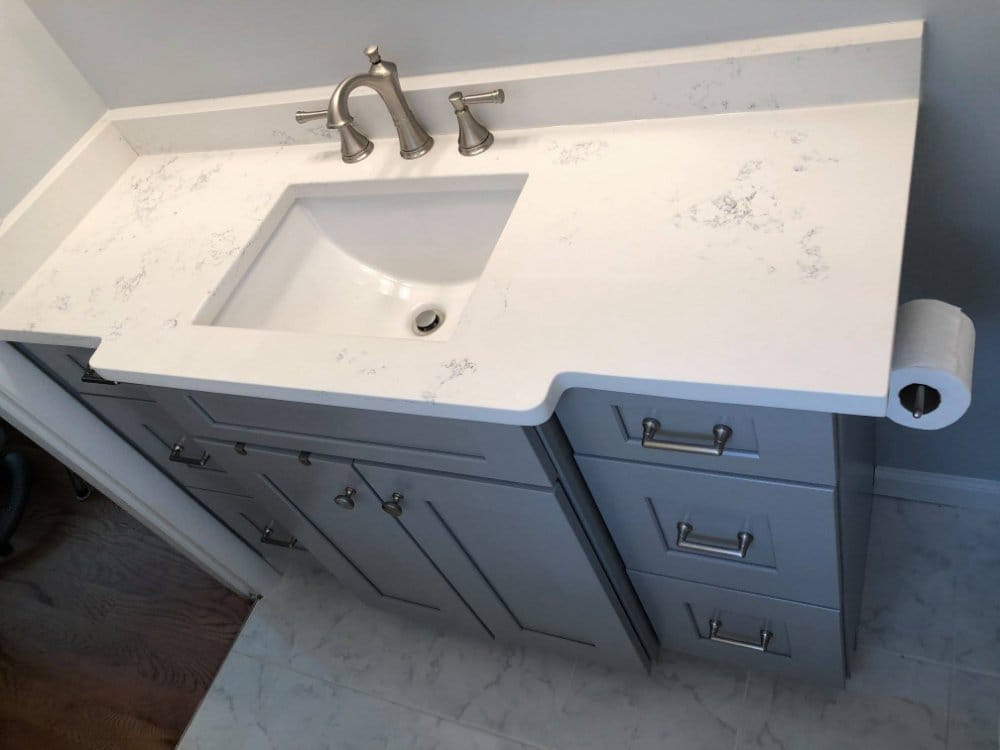 Bathrooms have the storage cabinets mostly beneath or above the sink, and they are mostly constructed with marble materials on the surface to give them a royal touch. Make sure to use waterproof materials for surface finishing to secure your base, and also for your bathroom cabinets. We can call the bathrooms as the most accident-prone rooms also if not designed well.
Most people deny spending money to buy costly materials for maintaining their bathrooms. But believe us, if you even spend almost 50% of your one month salary over it, you would not repent on your decision.
Kinds of bathroom cabinets:
Bathroom cabinets can be designed with different styles as per your choice.
Woody style: one of the mosttraditional looks would be woody style bathroom cabinets. These basic woody cabinets are very convenient too, and it helps to make a soothing effect on your eyes. It is also very easy to create the look that you want. There is a wide range of paints available in the market, or you can order it online too, but make sure you are using waterproof colour paints. If you are looking forward to upgrading your bathroom cabinets, you need to go beyond the usual choices.
Using metals: Metal style cabinets are in trend as well. It can give your bathroom a retro-modern look and create an indo-western style. If you want a fresh look for your bathroom cabinets, then this style would suit your likings. Decorate it with some lighting effects and other accessories to put a contemporary effect on it.
Flat style: Flat style cabinets help you to give a classic look to your bathroom cabinets. It looks elegant and clean and can fit any home decor. There is an endless number of options available for choosing the designs under this style. From traditional to industrial, any look can be created using it.
Mirror style cabinets: The people who are fond of putting mirrors for decorating purposes can use this style for their bathroom cabinets. Using of mirror styles for the cabinet illustrates the bathroom space bigger than usual. Most of the people like to use this mirrored effect on the font of the cabinets to give a modern, airy effect.
There are other things also that you have to be concerned about while making bathroom cabinets.
Particleboard: You may notice that we usually find woody materials as a buying option for vanities. But you have to know the pros and cons of it. Woody materials like plywood or Medium Density Fiberboard known as MDF are mostly regarded as vanity options for bathroom cabinet construction. However, all particle boards may not work at the same level, and it depends on their quality. Your choices of designs and hygiene habits can play a huge part to choose the right one. While you are taking a shower or hot water bath, you may notice water leaking from the bathroom cabinets. It means the cabinet materials are damaged, and you need to replace them immediately; otherwise, the cabinets will break down. If you need more ideas on bathroom decoration, you can check the How to Equip the Perfect Bathroom According to Your Lifestyle (porch.com).
PVC: Choosing the right materials for the bathroom cabinets should not be much tricky. But you must be aware of the fact that waterproof materials would work best for the bathroom. PVC or Polyvinyl Chloride is one of them. It makes bathroom cabinets waterproof and also saves them from being damaged by the running water.
Conclusion: All these tips may help you to give your bathroom a fascinating look it deserves. Don't forget to choose 100% water-resistant materials for bathroom cabinets to make them long-lasting for use.